The company Remolcadores Ibaizabal and Astilleros de Murueta have completed tests on the new tugboat powered by gas (LNG) and diesel (Dual), which will soon be commissioned in the Port of Bilbao as part of the port's towage service.
In addition to the shipowner and the shipyard, the Basque Government, through the Ente Vasco de la Energía/ Basque Energy Agency, has taken active part in this project. It also forms part of the European Union's CORE LNGas hive project, in which the Port Authority of Bilbao, Enagas, Puertos del Estado, Ibaizabal, Murueta and the Basque Energy Agency are all involved.
The tugboat, which will be named Ibaizabal Fifteen, is 28 metres long, 12 metres wide, has a gross registered tonnage of 397 GT, a draught capacity of 55 tonnes and can reach a speed of up to 12 knots.
Pioneers in environmental management
The Port of Bilbao is a pioneer in environmental management and promotes different initiatives aligned to the core areas selected by the port system to contribute to Agenda 2030. One such initiative has been to promote the supply of LNG to ships. In addition to the commissioning of this new tugboat, Repsol recently announced its intention to build its first LNG filling station in the Port of Bilbao. As a result of an agreement with Brittany Ferries, the filling station will be attached to the terminal where the ferries to and from the United Kingdom and Ireland dock, and will service not only the LNG-powered ships that the company is constructing but also other vessels when the berth is not occupied.
This project is the latest in a series of initiatives already taken forward by the Port, such as the first truck-to-ship bunkering service in 2017, and the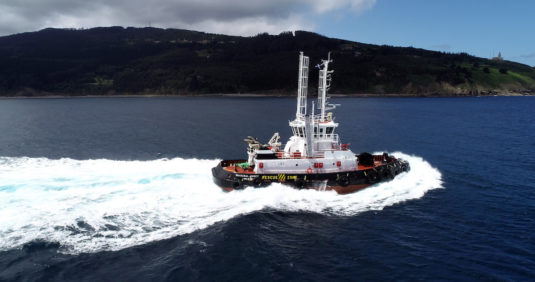 first pilot test in the Atlantic Arc and Mediterranean in February 2018 of ship-to-ship LNG fuelling.
Furthermore, a year ago, Bilbao was also the first port in the world to obtain an Environmental Product Declaration (EPD), based on the life cycle analysis of port services. Another environmental initiative has been to replace the exterior lighting of the Port with LED technology, which has led to a 14% reduction in power consumption in 2019 compared to 2018 figures. Investment amounted to EUR 1.6 million and was 50% funded by the EC under the European Regional Development Fund (ERDF).
In addition to electricity, the consumption levels of other materials have also been significantly reduced in the past year as a result of initiatives taken in this area. The consumption of automotive fuels has been reduced by 7%, water consumption by 5%, total Greenhouse Gas (GHG) emissions into the atmosphere by 37% and paper consumption by 24%. Work is currently underway on the launch of a strategic energy plan for the Port of Bilbao.