The Port Authority of Bilbao, through its e-puertobilbao telematics platform, has set up and launched a new version of its mobile application which enables transport companies to provide advance notice of entry to the Port and port terminals.
This new version, which comes out four years after the launch of the original application, offers, on the one hand, a new and user-friendly graphic interface, in line with criteria of good practice and Material Design standards. Furthermore, it features new functions for advance notice of entry to general cargo terminals in the process of automating their entry gates, and also makes it possible to synchronize advance notice on different devices.
The app, available from Apple Store and Google Play, is designed for transport companies which, due to their operations, need to give advance notice from their location at any given time. Since its launch, it has been used by 544 companies (482 Android version and 62 iOS version). Though the menu and navigation options are straightforward to use, a quick guide can be found at https://www.epuertobilbao.com/centro-de-atencion-a-usuarios-cau/app-preavisos/
Quicker, safer and improved planning
The advance notice service for land transport companies, available on the e-puertobilbao platform in its different versions, is being used by the most important transport companies working in the Port. The app enables a message of advance notice of entry to be sent to the platform and channelled to the Port's 
access control system and to the connected terminals. The possibility of doing this through an app provides a new way of using this service.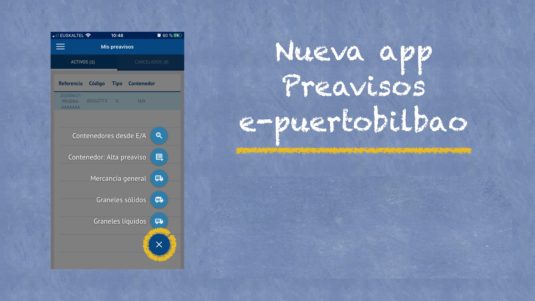 The use of this tool speeds up the entry process to the port, since the control gate opens automatically on reading the vehicle number plate. With the information provided, terminals can also plan their operations better and, if they have an automated gate, can feed the advance notice into their system and optimize entry to the terminal.
The advantages, therefore, include a reduction in waiting times for vehicles at the entrances to both the port and the terminals, greater security within the port area and a system for managing the flow of road transport to optimise port operations.