Ricardo Barkala: Júndiz will be the first railway terminal in Spain connected to the Atlantic Corridor.
The President of the State Ports, Francisco Toledo, has held a video-conference meeting with Ricardo Barkala, President of the Port Authority of Bilbao, in which they have reached agreement on the content of the Business Plan 2020-24, a period in which more than 206.5 million euros of public investment and a further 79+ million euros of private investment will be made.
The public investment programme includes the construction of the railway access to the first phase of the Central Quay, from 2021 onwards, its paving and its service networks, amounting to 8.2 million euros, with the second phase due to be undertaken in 2022 with an investment of 71 million euros. Likewise, a new berthing line will be constructed with the AZ-1 quay extension (27 million euros), which already has high operation rates. This will be designed to improve sea conditions in all the internal dock area of the extension.
With respect to private investment, Barkala highlighted the new hydrogen generation plant awarded to Petronor, which is currently undergoing an environmental assessment. Petronor will build its plant to manufacture synthetic fuels, using green hydrogen generated from renewable energy, on a 46,700 m² plot of land, with a first phase investment of 67 million euros. This will be one of the largest plants of its kind in the world.
With regard to road access, the Port Authority will sign an agreement with the City Council and the Provincial Council to improve road access to the Port of Bilbao for special transport vehicles, especially that related to the wind power industry.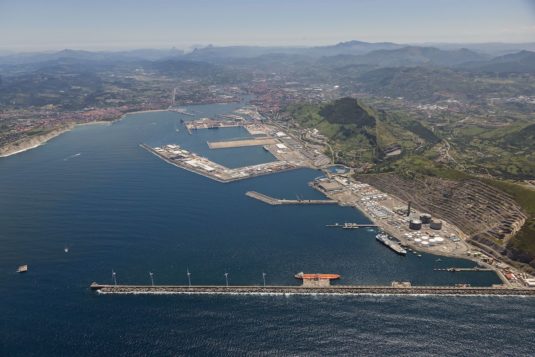 Francisco Toledo also announced that the modification of the Delimitation of Port Spaces and Uses regulations (DEUP in Spanish) will shortly be approved, to incorporate into the port service area the space created by the works of the 1st Phase of the Central Quay of the Expansion of the Port in the Outer Abra. The inclusion in the port service area of the new stretch of river water resulting from the opening of the Deusto Canal by the Bilbao City Council is also pending.
The President of the Port Authority highlighted the support provided by all public administrative bodies for the Júndiz Railway Hub and its connection to the Atlantic Railway Corridor. This means that Júndiz will be the first railway terminal in Spain connected to the Atlantic Corridor, thus enabling 750-metre long freight trains of standard width to be handled.