To improve the management of the flow of vehicles and containers on its premises, the Port Authority of Bilbao has opted for the innovative technology of AllRead MLT, a start-up that has provided technological solutions linked to the Bilbao PortLab initiative (Ports 4.0).
To optimize operations, the start-up has identified a use case focused on access control which requires, on the part of the Port Authority, optimum control and management to ensure both the safety and security of port infrastructure and traffic and operational flow.
Specifically, to address these security and operational needs, the Telecommunications Area of the Department of Competitiveness and Innovation is looking to improve entry management by incorporating new technology for the identification of containers (license plate and type) and hazardous goods license plates. This will be achieved with no adverse effect on performance, i.e. without interrupting vehicle flow.
To this end, the port has launched a pilot project with AllRead Machine Learning Technologies (AllRead MLT), a start-up specialised in computer vision systems capable of "reading" text, codes and symbols on photographs and videos. In three months, the start-up has developed its software to provide, using the video from a single camera on the existing network, five key pieces of information in real time as each vehicle passes by: the type of vehicle (car, truck, van), the number of the container, the vehicle's license plate, the trailer's license plate, and the presence or absence of hazardous goods signs.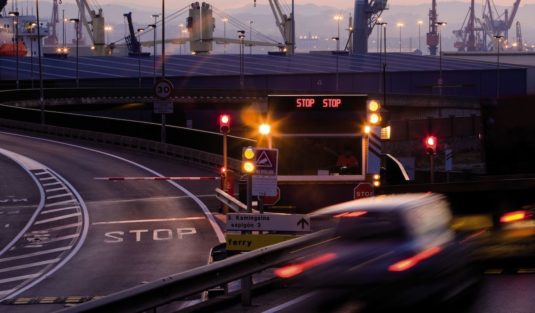 Preliminary results of the software reveal a degree of certainty above usual OCR (Optical Character Recognition) standards. This is attributable to the fact that AllRead MLT's advanced technology is based on Artificial Intelligence, more specifically on Neural Networks; that is, using real and synthetic data, the system "trains" to get it right, even in complex (and frequently encountered) reading situations, such as the presence of stains, blurring, dirt, obstruction, etc.
The Port Authority and AllRead MLT have already agreed on the next phase of the project to install their software at several access points in the port. This collaboration is part of the Port of Bilbao's ongoing and all-embracing focus on continuous improvement of its services, supported by innovative technology to enable faster processing and reduced waiting times at access points.