One of the projects will position the Basque Country at the international forefront of the commitment to hydrogen in innovation and decarbonisation
The Board of Directors of the Port Authority of Bilbao has decided to award Petronor, a subsidiary of the Repsol group, the tender for a 46,700 m² plot of land in Punta Sollana, within the the Port of Bilbao. The land will be used to undertake a project of a markedly strategic nature, of global scope and of worldwide reference, linked to innovation and environmental sustainability, which will contribute to the reduction of CO₂ emissions and to the development of the hydrogen economy centred on and around the Port of Bilbao.
The project consists of constructing one of the world's largest plants for the production of synthetic fuels using green hydrogen generated with renewable energy. The main characteristics of these fuels are that they are produced using water and CO₂ as the only raw materials, and that they can be used, in addition to other applications, in car combustion engines, airplanes and lorries.
The first phase of the investment will amount to EUR 67 million, with the facilities planned to come into operation as from 2024. Later, Phases II and III, to be developed alongside the first phase, will involve an additional investment of EUR 76 million on the construction of a plant for the generation of gas from urban waste, such as paper, cardboard, plastic and textiles, which will avoid the use of traditional fuels and promote a circular economy. Initially, this pyrolysis plant will be able to process around 10,000 tons/year of urban waste, a figure that may rise to 100,000 tons in later phases. This gas will be used as fuel for the refinery itself.
Last plot of industrial land
The 46,700 m² awarded in Punta Sollana represents the last free plot of land in the industrial area of the Port of Bilbao, in the Outer Abra. The Petronor project competed in public tender with two other projects of great interest.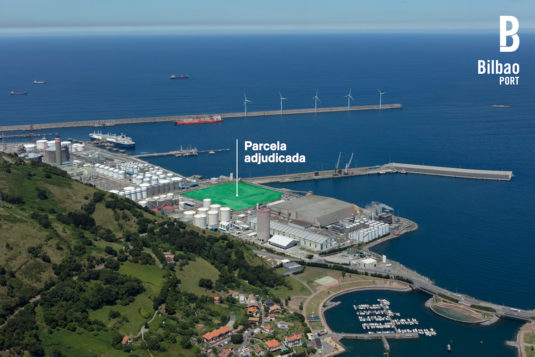 The proposal that was finally selected is intrinsically linked to the concepts of innovation, cutting-edge technology, sustainability, decarbonisation and energy transition, all of which are contributors to reducing the carbon footprint. These criteria are in line with the Port Authority's own strategy of making the Port of Bilbao a more sustainable and innovative area. Likewise, consideration was given, among other issues, to confirmed high investment, the technical, economic and operational viability of the project, and job creation.
The project represents a clear commitment on the part of Repsol to the Basque Country, considering the role and impact that a company such as Petronor has on employment and the wealth of the surrounding area. With a production potential of 12 million tons/year, Petronor is the largest refinery in Spain, exporting just over a third of its production. The company has around 1,000 employees but also generates a knock-on effect of around 6,200 jobs.