The Bilbao Port Authority presented its telematics services as a support to its strategy for the simplification and facilitation of processes for business development to over 250 participants at the e-maritime conference held in Brussels at the end of November.
The Conference was organised by the European Union with a view to debating and analysing the development of the e-maritime initiative in both its functional and technological dimensions. Mr Txaber Goiri, the Manager for Competiveness at the Bilbao Port Authority, took part as the Chairman of the Intermodal and Logistics Committee of the ESPO (European Sea Ports Association), and stated that for the ports, the e-maritime vision was positive "as long as it provides an opportunity to establish an efficient system that facilitates the processes and information interchanges in the ports and logistics chains.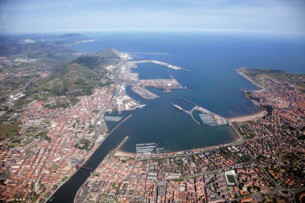 In this respect, the ESPO considers it necessary to maintain the existing systems and portals as entry points to national one-stop windows "since these systems are, in fact, already serving as one-stop windows at the local level for our port community customers."
For Goiri, "in ports like Bilbao, where the e-puerto telematics platform is already in existence, we must insist on the need to make minimum changes because our customers need the stability in order to centre on their business., and even more so bearing in mind that the e-maritime aim is to simplify and facilitate maritime trade and transport."
The two-day conference was inaugurated by Mattias Ruete, the Director General of the EU's DG MOVE. On the first day, the conference focused on the history and the definition of the e-maritime initiative scenario. At present, there are two projects under way: one for the implementation of directive 2010/65 concerning the formalities demanded from vessels on port arrival or departure at or from member states; the other pertains to the developments taking place in the SafeSeanet improvements.
On the second day, three working groups were organised on technology use to facilitate port operations and services for vessels and cargoes. Representatives from the ports of Hamburg, Bremen, Rotterdam, Zeebrugge, Barcelona and Valencia took part, some of whom presented their telematics systems (Port Community Systems) and their value-added services offer. Sea operators, such as Maersk, MacAndrews, Unifeeder, P&O ferrymasters also took part as well as representatives of the DG TAXUD (EU Customs), the EMSA (European Maritime Safety Agency) and shipping and European ports Associations (the ECSA and ESPO respectively).
The conference was closed by Mr Strottman of the Cabinet of Siim Kallas, the EU Transport Commissioner with a speech entitled "Connecting the maritime world-towards 2020".