Shipowners Finnlines, belonging to the Grimaldi Group and represented in Spain by shipping agents Toro y Betolaza, have included the German port of Rostock on their regular weekly import route between Bilbao and Saint Petersburg, thus linking it with Bilbao via Bruges with a transit time of four days.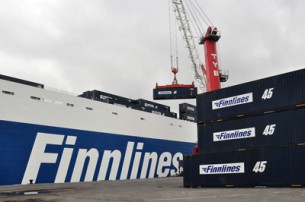 The line is covered by the Finnsun, Finntide and Finnsea respectively, with a capacity for some 200 flat containers, 600 vehicles, 470 TEUs and 75 reefer containers. These vessels also offer driver-on-board facilities.
Finnlines sail from Bilbao every Wednesday and arrive at Antwerp on Friday. Next call is at Helsinki on Tuesday with the route ending at Saint Petersburg on Wednesday, just one week after leaving Bilbao. Vessels then leave the Russian port to call at the Finnish port Kotka on Thursday and at Lübeck, Germany on Saturday before returning to Helsinki on Tuesday. From here, they sail on to reach Rostok for Friday, Bruges Sunday, and finally arrive at Bilbao early on Tuesday morning of the following week.
So Finnlines, in keeping with its firm commitment to Bilbao as a centre of operations, now offers a new alternative that is more reliable, profitable and sustainable for transport flows between the Rostock and Benelux areas and the north of Spain.