The Port Authority has created more land for logistics and industrial use, both within and outside of the port area.
Within the Port of Bilbao itself, works on the first phase of the new central quay have been completed. This has generated a new surface area in the port in excess of 300,000m², with a new 1,100m berthing line. Further development works in this area will be conducted in three stages; the first, covering 201,399m², has just been awarded for EUR 8.5 million, with an eight-month completion period.
The European Commission has contributed 20% of the amount for the construction of this quay, within the framework of the Connecting Europe Facility (CEF) programme. The rest has been paid for by the Port Authority itself. The EU contribution amounts to EUR 20 million.

Furthermore, works for the extension of Dock AZ-1, which will generate 50,000m² of new surface area and a new berthing line of just over 200m, will be tendered out this autumn.
Arasur and Pancorbo
Outside of the port itself, the Port Authority offers its customers and users a network of dry ports which have been developed in recent years. These logistics areas are equipped with a railway terminal for intermodal services.
In 2019, the Port Authority of Bilbao completed development works on the railway siding in the Arasur Industrial and Logistics Park, covering an area of approximately 40,000m² and with a 120m long access road to the platform. Prior to that, works on the construction of the railway siding itself had been completed, as a result of a collaboration agreement between the Basque Government, the Provincial Council of Alava and the Port Authority to set up a railway operating base for the Port of Bilbao within this logistics platform.
These facilities include two tracks for train entry/ departure and another two for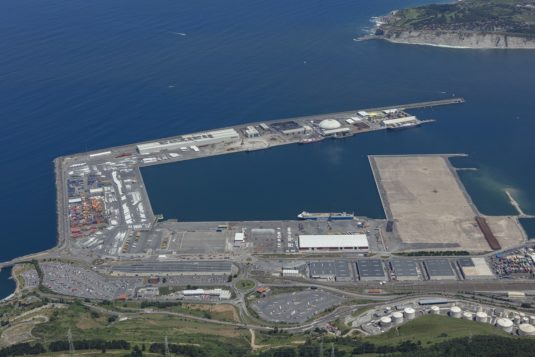 loading/ unloading facilities. Each of these tracks is around 450m long and can switch from Iberian to international gauge. There is also a loading bay fitted out to enable intermodal cargo transfer.
Similarly, in Pancorbo, the Port Authority has premises for sale or rent for logistics and industrial activities, with a warehouse for storing steel products, amongst others. January 2017 saw the first development phase (around 60,000m²) of this dry port completed at a cost of EUR 4.5 million. The remaining surface area will be developed in later phases, flexibly and in line with the needs and cargo types of those customers wishing to set up on this logistics platform.
The Pancorbo terminal, with a total surface area of 125,000m², has two 600m and 650m loading and unloading tracks, a 650m long shunting track, a 750m track for receiving and despatching goods and a 30,000m² storage area. Total surface area allocated to loading/unloading and the receiving and despatching of goods amounts to 17,000m² plus 12,400m². Construction of the terminal was co-funded by the European Commission (EUR 1.96 million), as part of the IBUK Intermodal Corridor project.