Around 16.4 million tonnes of goods were handled between January and June, down 6.8% on an accumulated year-on-year basis (1.2 million tonnes), a below average downturn in relation to all other ports of general interest.
The main downturn has been in bulk solids and general cargo, with significant falls in high-value traffic such as steel products, while there has been a notable increase in refrigerated containers, due to the growth in perishable products, and in special parts, mainly wind turbine components.
The Port of Bilbao has largely maintained its activity and has closed this unusual first half of the year, in which the country has been in a state of alarm for more than half the period in question, with around 16.4 million tonnes of goods handled and a moderate year-on-year fall of 6.8%, which represents, without taking into account local traffic or supplies, an accumulated loss of 1.2 million tonnes compared with the same period last year.
Pending June closure data for State Ports as a whole, the decrease to May was 10%. On the Cantabrian coast alone, the average was 14%, twice that of the Port of Bilbao. 
Specifically, bulk liquids fell by 205,000 tons (-2%), as one of the refining lines at Petronor was stopped due to lack of demand. This stoppage caused a sharp drop in crude and heavy fuel oil. On the positive side, traffic of gas has not only seen last year's record figures consolidated but has also increased by 21%, reaching the figure of 2.2 million tons.
Bulk solids have suffered the biggest downturn (-16%), mostly attributable to the fall in exports of cement and clinker, non-metallic minerals, scrap metal and soya beans. Exports of petroleum coke have increased significantly (+17%).
General cargo, which has the greatest added value for the port community, has fallen 11% overall, with containerised cargo being the main cause of this downturn with 434,000 tonnes and 39,700 TEUs less. In containers, the most notable decline has been in building materials and vehicles and spare parts, whilst figures for oils and fats, food products and frozen fish have increased. The increase in perishable products can clearly be seen in refrigerated containers, which have risen by 242%.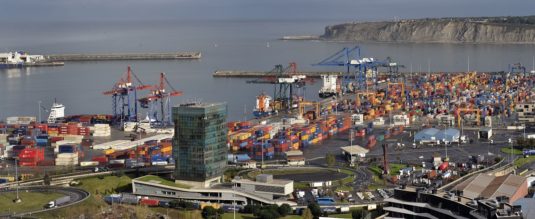 Conventional general cargo, on the other hand, is down by 9%. The volume of steel products, which have the greatest weight in this category as they account for 63% of all conventional general cargo, has fallen by 107,000 tonnes.
Growth in shipments of special parts should be highlighted. The Port has received 2,295 special consignments, 11% more than in the same period last year. Special mention should be made of wind energy products, which continue on an upward trend, growing by 24% compared to the first half of last year and reaching 96,711 tons.
In absolute terms, and irrespective of the type of container, the goods where the volume of traffic has suffered the most are crude oil, fuel oil, cement and clinker, other oil products, non-metallic minerals and steel products. Conversely, those showing the greatest growth have been natural gas, petrol, oils and fats, diesel, petroleum coke and food products, in addition to the aforementioned wind products and reefer containers with perishable products.
The main markets, in terms of total traffic, are Russia, the United Kingdom, the United States, Mexico, Spain, the Netherlands and Brazil.
Finally, the number of regular line passengers has gone down by 63%, or 29,596 passengers fewer than last year, as a consequence of border closures triggered by the Covid-19 pandemic. Ferry passenger activity resumed on 30 June, while no cruise ship calls have yet been recorded due to the restrictions still in place.