The FENIX Project – A European Federated Network of Information exchange in Future Logistics – has concluded with an event in Brussels in which the Port Authority of Bilbao, as a participant in this European programme, has presented the results of the pilot project of the Atlantic Corridor, the aim of which is to optimise and speed up the entry and exit of rail transport and hazardous goods to and from the port of Bilbao.
Together with the Port Authority, ATOS, INDRA and the Mobility and Logistics Cluster of the Basque Country have been involved in this pilot project, which is also focused on its dry ports. The project has focused specifically on developing a series of telematic services on the e-puertobilbao platform to support rail freight transport. Furthermore, control of the automated entry of hazardous goods by train and road has been optimised by using innovative AI-based AllRead MLT technology, which enables a range of data and information to be obtained from the analysis of video from a single camera. For example, in the case of road vehicles, the type of vehicle (car, van, truck), the container number, the vehicle registration number, the trailer registration number, and the presence or absence of hazardous goods signs; and, in the case of rail transport, wagon number, container number and the presence or not of hazardous goods signs.
These developments have been focused on 7 specific case scenarios: railway planning; paper-free customs clearance for goods exit by rail; improvement and automation of the control of hazardous goods entry by train or truck; integration of delivery, admittance and advance notice of entry in dry ports; management of loading and unloading lists for goods transported by train; track & trace, goods transported by train from port to dry port and vice versa; and the application of BI (Business Intelligence) to intermodal operations (indicators, etc.).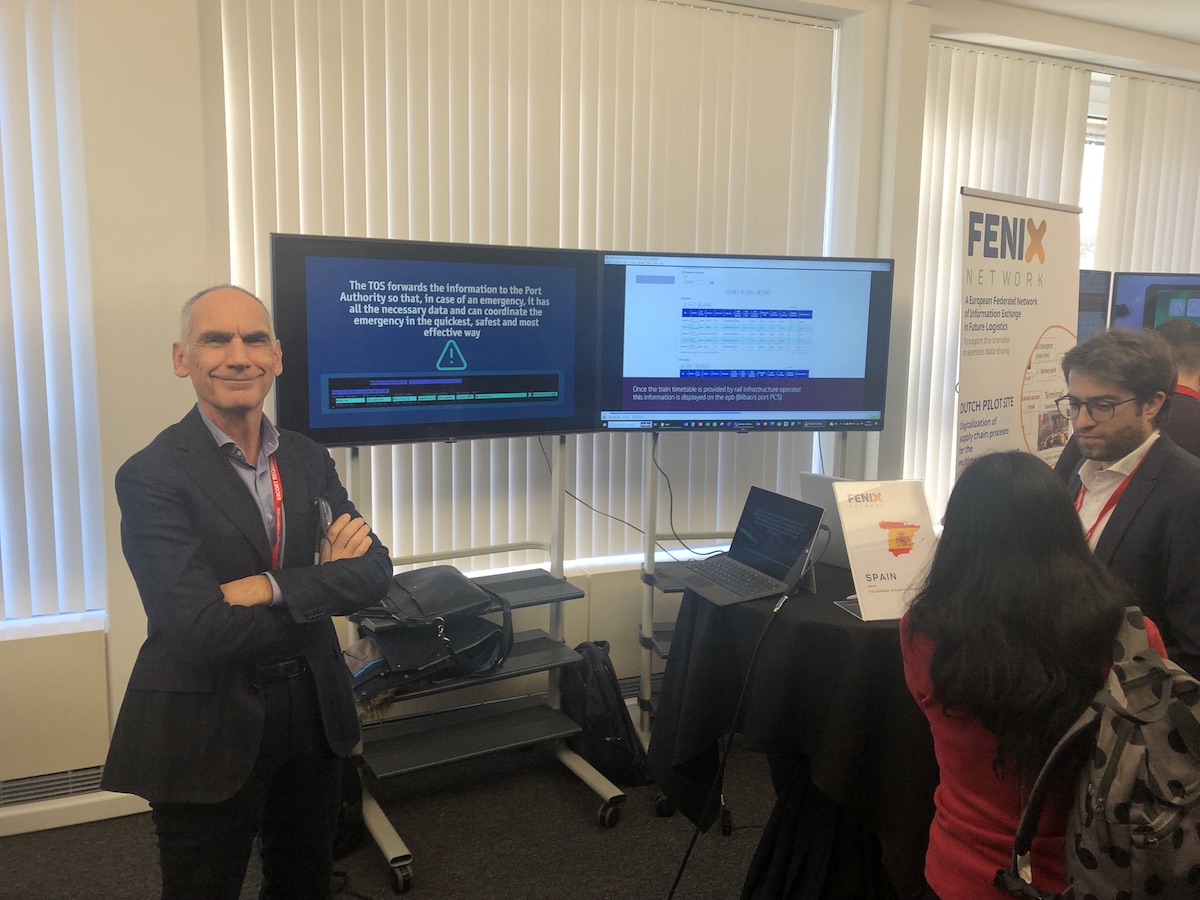 About the FENIX project
FENIX, co-funded by the CEF (Connecting Europe Facilities) Programme of the European Union, has established technical specifications for the development of connectors that enable the practical application of the concept of federation of data platforms. The Port of Bilbao is one of eleven pilot projects where these concepts have been applied by a consortium of 43 companies in different logistics scenarios in 9 countries belonging to the 9 corridors established by the TEN-T (Trans-European Transport Networks).
The project's final general assembly was held between the partners, and the results of the pilots were presented to the project coordinator (ERTICO), to those responsible for the European Union Directorate for Mobility (DGMOVE), to the other companies participating in the consortium and to all others in attendance.