Representatives from the Port Authority of Bilbao and from the nine Riverside towns of Barakaldo, Bilbao, Erandio, Getxo, Leioa, Portugalete, Santurtzi, Sestao and Zierbena have held their first annual meeting of the Board of the Port and River of Bilbao Foundation.
The general lines for management and plan of actions were set out and among the proposals approved was one to allow other public or private entities, sharing the same concerns as the Foundation to become members.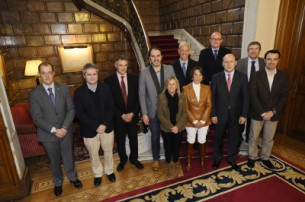 The aim of the Port and River of Bilbao Foundation is to promote and develop actions of general interest with a wide range of sociocultural and recreational activities to enable people to enhance their knowledge of the present and historic relevance of the Port of Bilbao and of the River itself in the economic and social development and integration of the riverside towns. Such actions will include developing and encouraging lines of research; organising and carrying out seminars, sectoral meetings and training courses within sectors involved in port and municipal life; awarding grants and aids for training within the port environment; carrying out studies about port services; participating in fairs, seminars and other forums; collaborating with and sponsoring social, cultural and sporting activities; promoting cooperation among different administrations, entities and/or agents in the sector as well as collaborating with other organisations in the environment on a non-profit basis.