With a view to reinforcing the safety system inside port facilities, the Port Authority of Bilbao has acquired two new acoustic warning systems. Thus, in the event of a chemical emergency due to toxic leaks, those working inside port facilities will be immediately alerted. The two new sirens, which can be heard in nearby towns and villages, have been installed at Punta Lucero, the Port of Bilbao's most extreme point.
This means that there are now five interior sirens distributed in the Port area to which must be added a sixth in the exterior which was installed by the Autonomous Basque Government in Santurtzi in order to alert the population should it be affected.
Bilbao is the only Spanish Port Authority with such a large emergency warning network, which in addition it has paid for itself. In June 2010, the first sirens were installed, and up to now, a total of 161,000 euros has been invested in the five sirens and their control systems. In the words of those in charge of the system, "the law does not make us have such a widely distributed warning system, but for us prevention and safety are central to our activity. Without any doubt, our priority is to protect both port workers and local people living near our facilities".
The Port Authority of Bilbao has organised an open day for the Port companies and invited members of the nearby town councils of Zierbena and Santurtzi in order to announce the new equipment and inform of how to act in the event of a chemical emergency. The Director of Emergencies and Meteorology of the Basque Government, Mr Pedro Anitua, will also be present. In 2010, another information campaign was carried out together with the Basque Government, and on that occasion, it was focused on both Port workers and the population of the two nearby towns.
As a means of prevention, the Port area warning systems are activated for several seconds at 10.00 hours every Tuesday, and drills are carried out from 
time to time. Basic self-protection advice given is to stay indoors until further notice.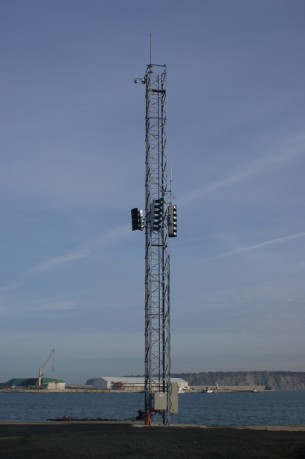 Updating of self-protection plan
Furthermore, the Port Authority of Bilbao has just updated the self-protection plan in the Port of Bilbao, which is revised every three years, or before if considered necessary. The plan has already been presented to the Basque Government and the Spanish Interior Ministry. It includes the private plans made by the port companies and is linked to the Port of Bilbao's emergency exterior plan drawn up by the Basque Government.