The Celebrity Edge, Premium Celebrity Cruises' new vessel, arrived at the Port of Bilbao today on a special 11-day itinerary also calling at the ports of A Coruña, Lisbon, Gibraltar, Palma de Mallorca and  Civitavecchia. This call shows Celebrity Cruises' commitment to Bilbao, and in addition, this vessel is the company's largest to have docked here.
This revolutionary cruise vessel is 306 metres long and has the capacity for 2,900 passengers and 1,300 crew, boasting 1,467 cabins and 14 decks.
The Celebrity Edge, the first and only ship to be created in 3D, represents an absolutely innovating concept never seen before in the sector by uniquely integrating the sea into the cruise experience.
It boasts differential and iconic elements such as the Magic Carpet, an external platform that hangs over the sea that becomes a changing leisure space according to the deck where it is located; Eden, an idyllic space that takes in three decks to offer a restaurant and cocktail bar, or the Rooftop Garden, a unique terrace where plants, trees and design sculptures make it the space to enjoy incredible views.
In addition, Celebrity Cruises offer a high level of culinary art on board the Celebrity Edge including four main restaurants (inspired by Italian, French, Cypriot and American gastronomy), seven speciality restaurants (outstanding among which are the Fine Cut Steakhouse, serving meat of the highest quality, Le Grand Bistro, offering first class French cuisine or the Raw on 5 serving exquisite oysters, caviar and shellfish), exclusive options for suites and 11 bars.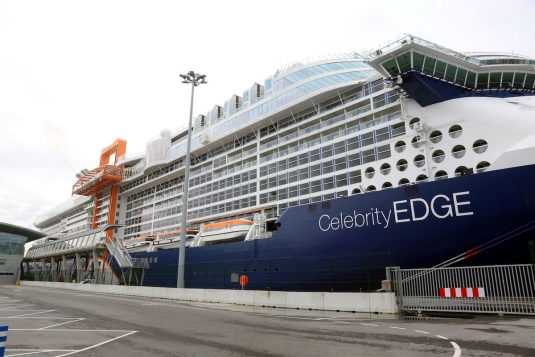 Furthermore, the Michelin-starred chef, Cornelius Gallagher, has created vanguard recipes for all the restaurants.
Its cabins are not to be outdone. Thanks to their new design, sea frontiers have been eliminated with the Infinite Veranda concept. This is based on great glass galleries which at the touch of a button, become a veranda, with the passenger never losing the panorama of the sea. In addition, suite passengers have an exclusive space, The Retreat, which includes a private pool, terrace bar and concierge service at any time of the day.