The Port Authority of Bilbao and UniportBilbao, together with some twenty companies operating in the Port of Bilbao will again constitute a strong presence at the Breakbulk Europe Exhibition (Hall 5, Stand H60). The Port Community will present itself as a unit which has been, and still is at the forefront of cargo of this class, contributing expediency, flexibility and specialisation.
In 2018, the Port of Bilbao handled 3.5 million tonnes of throughput, 4% up on the previous year. Ro-ro traffic, which grew by 6%, stood out. Thanks to this increase, 24% of conventional cargo now corresponds to Ro-ro traffic. Regarding project cargo, 4,290 special units used the Port in 2018.
Iron and steel and wind energy products, machinery and spare parts and pulp and paper still made up the main cargo. The United Kingdom was the main market, with 24% of this traffic, followed by Turkey, India, Taiwan and the Netherlands.
Specialised in project cargo
The Port of Bilbao provides services for a highly industrialised hinterland, and besides, inside its facilities companies like the Haizea Wind Group, Arcelor Mittal, Vicinay Cadenas, Navacel and Lointek have installed their manufacturing plants. In addition, Siemens Gamesa has a base terminal where it imports from, and exports to all over the world. Then there are stevedoring companies specialised in handling and loading projects such as Bergé, Toro y Betolaza and Servicios Logísticos Portuarios (SLP), to which must be added CSP Iberian Terminal Bilbao which provide services for all the main container shipping lines and offer space for over dimensional cargo (MSC and CMA-CGM among them).
With this in mind, and in order to get to know about the new opportunities offered by wind energy development and to be in contact with other leading ports and operators, the Port Authority of Bilbao has joined the Wind Europe Ports Platform, which other ports in Belgium, Holland, France and Denmark also belong to.
In addition to this, UniportBilbao/Port Community point out the value of the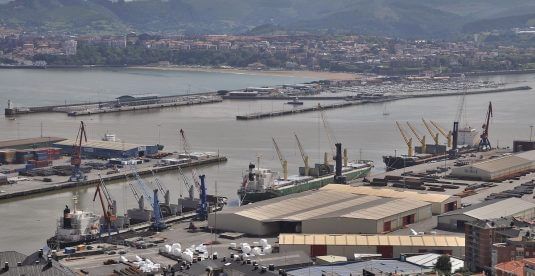 services provided by the companies belonging to the logistics-port community, which are not strictly restricted to port-only operations, but also range from maritime services (where Bilbao is outstanding for the frequency and status of its lines and destinations) to operations including key-in-hand, customs, specialised land transport and specialised packing among others – "here we have true specialists, some of whom will be with us in Bremen".
New surfaces
The demand for Port land for logistics-industrial projects has led the Port Authority to undertake the construction of a new quay – the Central Pier – which will be carried out in two stages. In early 2020 the first 334,000 m² of surfaces and 1,081 metres berthing will be available with a 21-metre draft. The first stage will require an investment of 79 million euros. The European Commission will contribute 20% of this as part of the Connecting Europe Facility. The rest will come from the Port Authority's own funds.
Outside the Port itself, customers are also offered the chance to use the dry ports being developed at Pancorbo (Burgos), whose rail terminal is already in operation, and at Arasur (Alava).