The Port of Bilbao Cruise Terminal at Getxo expects to receive 46 cruise vessels this year, which the Port of Bilbao Authority considers to be positive "since, in spite of the present economic situation, we still maintain a figure of nearly 50 calls". The number of passengers will be about 55,000.
This year's first vessel will be Le Boreal belonging to C. Isle du Ponant, which will berth on 28 April. RCCL's Adventure of the Seas will close the cruise season on 1 November.
For the Port Authority, the outstanding feature of this campaign is that three companies have again committed themselves to Bilbao as a port of embarkation, thus maintaining the same number of berths. "To be an embarkation port is synonymous with more overnight stays and more consumption in hotels, restaurants, bars and shops: this produces more wealth for our area," they say.
The three repeating companies are:
– MSC cruises: eight calls with the MSC Opera.
– Pullmantur: two calls with the Empress.
– Iberocruceros: two calls with the Grand Mistral.
Similarly, the same companies that did so in 2013, will again show their faith for the Port of Bilbao, which is a reflection of the level of customer loyalty that has been achieved in very little time due to the Port's facilities and service, and also due to the increasing attraction of the Basque Country.
Together with MSC Cruises, Pullmantur and Iberocruceros, will also visit the Port of Bilbao on several occasions: Oceania, which celebrates its tenth anniversary this year, has scheduled five calls; Hapag Lloyd, will make four calls; Sea Cloud, two; Fred Olsen, three; Saga Shipping, two; and M/V Celebrity Constellation, belonging to Celebrity Cruises, will return four times and will stay overnight on each of them. In addition, companies of luxury
such as Azamara, Chrystal and Princess will also call.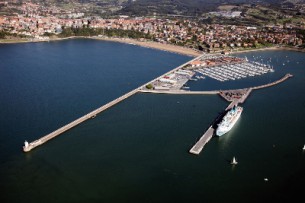 The Miami Exhibition
Port of Bilbao representatives accompanied by Bilbao Turismo – the Bilbao Tourist Office – attended CRUISE SHIPPING MIAMI, the most important cruise fair in the world.
The Port Authority had meetings with the main shipowners, who affirmed that Bilbao and the Basque Country aroused great interest beyond our frontiers, which is increasing year after year. At the fair, the majority of this year's calls were confirmed, and after the contacts maintained, it was advanced that "we hope to grow 5% in 2014, and we have even secured some calls for 2015".
New Cruise Dock
The Port Authority of Bilbao has undertaken the building of a second cruise dock, which as from 2014 will mean facilities will increase from two to three berths.
The new dock, parallel to the existing one, will have a land surface area of 27,400m² and be 76 metres wide; it will have a 355-metre long berthing line and a twelve-metre draft. Total investment will be 13.8 million euros.