As is usual, the Port Authority of Bilbao is again taking part in this year's Sinaval Eurofishing Fair being held at the Bilbao Exhibition Centre from 16 to 18 April. On this occasion, the Port Authority has a stand whose central theme is aeolian energy and the competitive advantages this port offers for its development.
The European Union has committed itself to transforming Europe into a highly efficient energy economy with low emission of greenhouse effect gases. Member states must adopt the necessary measures to achieve the objective of 20% of renewable energies in the EU as a whole by 2020. In this sense, the sea represents an immense virtually unexploited source of clean, inexhaustible energy, and the Atlantic Arc is the area with the best wave energy resources in Europe.
Consequently, a greater logistics capacity is needed for storing production as well as for the number of transport vehicles and facilities centring on port spaces, with specific high-load capacity docks at least 150 metres long.
The Port of Bilbao easily satisfies these requirements. Thanks to its extension works, the Port has enough surface area to enable renewable energies to take off and also to develop special project traffic, including that for the parts making up
aerogenerators.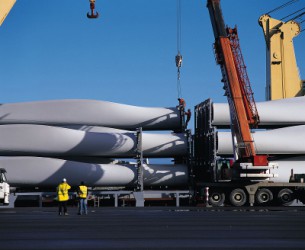 In 2006, Bilbao was the pioneer port when it housed the first marine wind farm in Spain. The farm, belonging to the Acciona Group Energy Division, consists of five aerogenerators, each of two megawatts.
At Sinaval the Port Authority, will also reveal its projects aimed at protecting and informing of the great wealth of marine fauna and flora occupying the Port's waters.
Further information about the fair and programme of Sinaval Eurofishing