At Intermodal Europe 2015, to be held in Hamburg from 17 to 19 November, the Port of Bilbao will present its logistics offer, its dry ports network which strengthens its rail connections and its synergies with other transport infrastructures in the Basque Country. Likewise, it will inform of the latest developments regarding its infrastructures and shipping lines both with North of Europe and transoceanic markets.
The Port Authority of Bilbao representatives will be at Stand D60, Basque Country Logistics, which will be a meeting point for company contacts and which will show the strategic Basque position in South East Europe as a gateway to the Iberian Peninsula and its fine links with the rest of the world.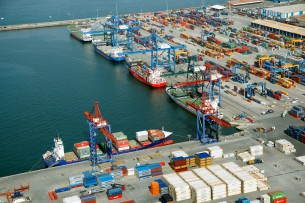 Commitment to port-rail traffic
Rail traffic entering or leaving Port facilities grew 18% in 2014. 15% of general traffic uses rail, a figure which increases to 19% in container traffic. The number of operations was 3,987 units, which was 520 up on the previous year.
Shippers have at their disposal intermodal rail services linking the Port of Bilbao with Vitoria-Gasteiz, Burgos, Madrid, Guadalajara, Seville, Zaragoza, Navarre, Barcelona, Castellón, Valencia and Murcia. The latter, which leaves from Nonduermas, is a refrigerated train, departing twice weekly at present.
The Port Authority is strengthening and increasing its present logistics zones network, namely in Pancorbo (Burgos) and Arasur (Alava) while at the same time it is strengthening intermodality through SIBPort, a company in which it is the majority stakeholder.
The Port of Bilbao finished 2014 with throughput of 30.8 million tonnes, which supposed 4% growth on the previous year. Bilbao is the gateway for the European Atlantic and leader in traffic with the United Kingdom. Also noteworthy is the important increase in the Asian Pacific and the zone of Central America and the Caribbean. Besides, in 2014, apart from the increases in all packaging classes, there was also growth in food products and special load cargoes.