The Port of Bilbao has received the visit of a delegation of Indian businesswomen looking for first-hand knowledge of its infrastructures and the services it provides to importers and exporters. The delegation comprised representatives from the Federation of Indian Chambers of Commerce and Industry (FICCI) and more specifically from the business ladies wing of FICCI, (FLO).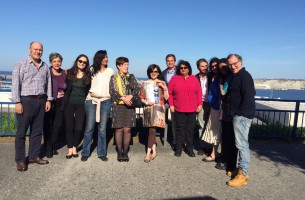 The Port Authority chairman, Asier Atutxa, and the Operations, Commercial and Logistics Director, Luis Gabiola accompanied the ladies on their tour of the Port's commercial and industrial facilities, which last year handled 200,000 tonnes of dry cargo with origins or destinations at Indian ports. In fact, India is among the Port's ten main markets in conventional cargo and serves Indian companies such as ArcelorMittal and Tata Steel. Besides, the Port Authority's own strategic plan establishes the challenge of specific opportunities in Asia, and India, the second most populated country and the world economy with fastest growth, is one of the countries to be held in consideration.
During their stay in Bilbao, the Indian business ladies took part in a meeting where they informed of their experience and of their company vision, as well as of innovation, politics, justice and society in their country. The meeting was organised by the India Spain Council in collaboration with the Asiatic research Institute, the University of Deusto, the Autonomous Basque Government, the Biscay Territorial Council and the Town Council of Bilbao.