The Port Authority of Bilbao will again take part in the International Logistics & Material Handling Exhibition (SIL) to be held in the FIRA Barcelona, Montjuic Exhibition Hall from 9th to 11th June. Under the brand name Basque Country Logistics at Stand B210, Port representatives will provide information about the latest developments in infrastructures and services, especially in the dry ports that are being built exclusively for its customers and users in Burgos (Pancorbo) and Vitoria- Gasteiz (Arasur). Pancorbo already has a 750-metre long track to dispatch and receive trains, as well as two electrified headshunts 6,750 and 100 metres long respectively for operations. In both logistics zones, the tracks are of Iberian gauge but can change to the international standard.
The Port of Bilbao closed 2014 with a total of 30.8 million tonnes of throughput, 4% up on the previous year. Bilbao is the gateway to the European Atlantic and the leader in traffic with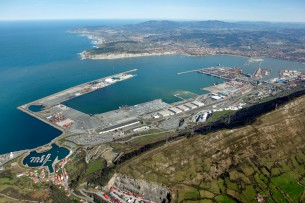 the United Kingdom. There was also an important traffic increase with the Asian Pacific and the Central American and Caribbean zones. In addition, 2014 saw growth in all types of packaging with increases in foodstuffs, especially in tinned food (+10%) and in special loads (+36%).