In order to bring the activity and importance of the Port of Bilbao closer to the people of Biscay, the Port Authority, in conjunction with the Bilbao Port and River Foundation, has organized a cultural fun day especially for children, which will take place in the popular Bilbao Arenal Promenade on Saturday 20 June.
This "Day of the Port" or "Kai Jai", as it has been called in Basque, will be a festive family event where by playing games and taking part in activities, the three main areas the Port works in – commercial, energy-generation and cruise tourism – will be made known. There will be over twenty activities available for groups of children of different ages, including a gymkhana on the River itself, a zip-line to cross it and a freight train.
The day begins at 11.00 am and ends at 8.00 pm with free entrance to all the activities.
Each year the event will take place in a different riverside town.
Economic Impact
Bilbao is the main port on the northern Spanish Coast due to its volume of traffic, infrastructure and number of shipping lines. The Port's activity maintains 9,000 jobs and produces 1% of the Basque Country's GNP and 2% of Biscay's. Nearly 5,000 people usually visit its facilities and the Port Authority alone employs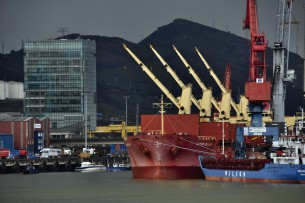 270 staff.
The aim of the Bilbao Port and River Foundation is to promote and develop a wide range of socio-cultural and recreational plans and actions of general interest that will provide greater knowledge of how the past and present relevance of the Port of Bilbao and the River itself have contributed to the economic and social development and the integration of the riverside towns. The Foundation is constituted by the Port Authority of Bilbao and the nine riverside towns of Barakaldo, Bilbao, Erandio, Getxo, Leioa, Portugalete, Santurtzi, Sestao and Zierbena; among its collaborators it also includes some twenty port activity-related companies and entities.