The Port of Bilbao together with shippers like Gamesa will take active part in the Breakbulk Americas 2015 Exhibition to be held from 6-8 October at Houston. Port representatives will not only be present at Stand N1515, but will also hold scheduled meetings with American shippers in order to inform them of the different direct Bilbao-Houston Trans-Atlantic breakbulk lines operating at present, which, among others, help to position the Bilbao roadstead as a reference hub for breakbulk and heavy project cargoes as one of the largest logistics and multimodal centres on the Atlantic Corridor.
The main act of this commercial trip will be a seminar organised by the Port Authority followed by a business dinner at which Asier Atutxa, Port Authority chairman, Luis Gabiola, Director of Operations, Commercial Area and Logistics, Iñaki Uriarte, Gamesa Logistics Director and Ricardo Arias, Port of Houston Trade Development Manager will speak. The meeting will be attended by companies from the logistics, industrial projects, energy and iron and steel sectors.
Traffic on the increase and new facilities
In 2014, heavy cargo projects grew by 36% in the Port of Bilbao, whose operators offer rapid, specialised services.
Bilbao is a port with quick and easy road and rail access between the Iberian Peninsula and the south of France.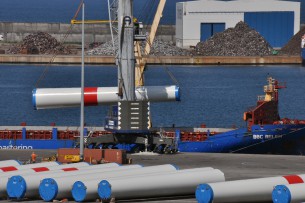 In addition, the development of new port spaces, which began in 1991, offers new terminals and surfaces for setting up businesses.
Last year, Gamesa, one of the major worldwide wind-power technology companies, built a loading/dispatch and storage centre on its docks with auxiliary structures and main pieces for the wind-power industry.
In addition this year, Lointek, a Biscay capital goods manufacturer, has built a production plant in the Port of Bilbao in order to be more competitive and increase markets. This facility will enable them to produce equipment over 1000 metric tonnes in vacuum, up to 12 metres in diameter and a minimum length of 50 metres.