Once again this year, the Port of Bilbao will present its competitive advantages at Fruit Logistica, which will be held in Berlin from 8th to 10th of February. Among these advantages its great number of maritime services stands out. With Europe alone, Bilbao offers fifteen direct container services and three wheeled traffic services for containers and trucks carrying cargo.
Its main European container traffic destinations are the United Kingdom, the Netherlands, the Irish Republic, Norway, Poland and Sweden. Major destinations outside Europe are Cuba, India, Peru, Angola, Thailand and Argentina.
Bilbao's maritime connections are complemented by its smoothness in processing and in its intermodal rail services with Vitoria, Burgos, Madrid, Guadalajara, Seville, Zaragoza, Navarre, Barcelona, Castellón, Valencia and Murcia. The latter departs from Nonduermas and offers a regular refrigerated train service.
In 2016, this traffic amounted to 193,200 tonnes, which supposes a growth of 17% over the previous year. Outstanding traffic included potatoes, with an important increase, frozen vegetables, consignments of onions, garlic and leeks as well as citrus fruits.
With regard to countries, Bilbao exported mainly to the United Kingdom, Ireland, Sweden, Canada and Norway, while major imports came from the United Kingdom, Peru, India, the Netherlands and Chile.
Perishables Facilities
The Port of Bilbao has the most important container terminal in the north of Spain, which also has the greatest draughts. It has 485 power points for refrigerated connections, and inside the concession, there is a rail terminal with four 450-metre long tracks. The operating company, Noatum Terminal Container Bilbao, is about to commence a project to extend the tracks, which will enable operations of trains up to 550 metres long; automatic gates will also be installed which will allow smoother truck operations.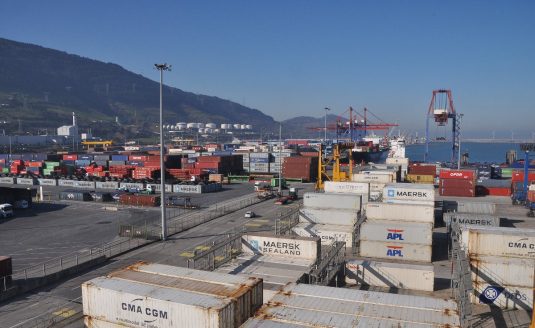 The Port also has a perishable goods terminal (Frioport) whose capacity is 25,000 cubic metres, equivalent to 5000 tonnes of goods. Different storage modules enable produce to be kept at different temperatures, varying from between +12º and -5ºC for fresh and refrigerated goods, and up to -22ºC for frozen.
In addition there are private storage facilities in the Port like those of Progeco Bilbao, which has 12 berths – some 800 square metres- dedicated to cross-docking, the transfer of perishable goods at controlled temperatures from refrigerated trucks to containers. Last year, Progeco also set up a 400-metre workshop specialised in refrigerated equipment repair.
For the entry of fruits and vegetables from South America and Africa, the Port of Bilbao has a Border Inspection Post with 16 unloading bays.
Collaboration with Mercabilbao
In recent years, the Port Authority has strongly committed itself to increasing the entry and exit flows of fruits and vegetables. In this sense, it closely collaborates with Mercabilbao, the largest distribution centre for perishable foods in the North of the Iberian Peninsula, thus taking advantages of synergies with a view to attracting new shippers and new shipping lines. Last year, the Mercabilbao facilities handled over 217 million kilos of fruits and vegetables.