On year more, some twenty companies from the Bilbao Port Community, including the Port Authority of Bilbao, will be taking part in the Breakbulk Fair Antwerp to be held from 12th to 15th May.
Representatives from the Port of Bilbao, specialized in general, HeavyLift and project cargo, will be at Stand 336H4 as a grouped participation under the brand name Basque Country Logistics; here they will inform of the services and infrastructures the Port of Bilbao offers shippers of this type of cargo, as well as of the logistics potential of the Basque Country.
In 2013, Port of Bilbao terminals received nearly 3.1 million tonnes of Breakbulk, including HeavyLift and project cargo. There were 3,445 requests for special transport access, which is equivalent to 64 dispatches per week. In addition, it has to be pointed out that nearly 35% of Breakbulk cargo corresponded to wheeled traffic, which gives an idea of Bilbao's operative possibilities, bearing in mind the presence of true specialists in all modes of transport together with their organization and coordination from the point of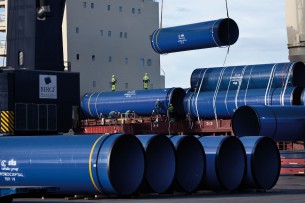 origin to the place of destination.
Companies taking part from the PORT OF BILBAO this year are as follows:
Agemasa
Agencia Marítima Condeminas Bilbao
Asta Logistik
Port Authority of Bilbao
Bergé M. Bilbao
Consignaciones Toro y Betolaza
E. Erhardt y Cía.
Europea de Consignaciones, (Ecosa)
Marítima Davila Bilbao
Marítima Transoceánica, S.A. (Matransa)
Marmedsa Noatum Shipping Agency
Onecargo
Seatrans Maritime
Sparber Group
Tiba Internacional
Toldos Titán
Vapores Suardiaz Norte
Vasco Catalana Group
Vasco Navarra de Navegación
Vasco Shipping Services
UniportBilbao / Comunidad Portuaria