Bilbao will present itself at the Fruit Attraction Fair to be held in Madrid from 5-7 October as the best-connected Atlantic port for the distribution of fruit and vegetables to the north of Europe as well as to the Iberian Peninsula. In 2015, this traffic rose to 169,528 tonnes, the outstanding produce being frozen vegetables, along with consignments of onions, garlic and leeks, potatoes and citrus fruits. The number of reefer containers increased by 23%.
The Port's main markets are the United Kingdom and the Irish Republic. The countries with most export growth are Sweden and Poland, while in the transoceanic markets, imports from China and Chile have increased.
Bilbao provides LO/LO services for containers and RO/RO services for containers and lorries carrying goods. For Europe alone, the Port offers 15 direct container services and 3 wheeled traffic services for containers and lorries carrying goods.
Its main European destinations for container traffic are the United Kingdom, the Netherlands, the Irish Republic, Norway, Poland and Sweden, while those, outside of Europe are Cuba, India, Peru, Angola, Thailand and Argentina.
Both the Port Authority and private enterprise continue to increase facilities and services for perishable goods transport. For example, the container terminal has 485 power points for refrigerated connections and as part of the lease, a rail terminal with four 450-metre long tracks. This year, the leasing company, Noatum Terminal Container Bilbao, will commence its project to extend the tracks, which will enable them to operate trains of up to 550 metres long.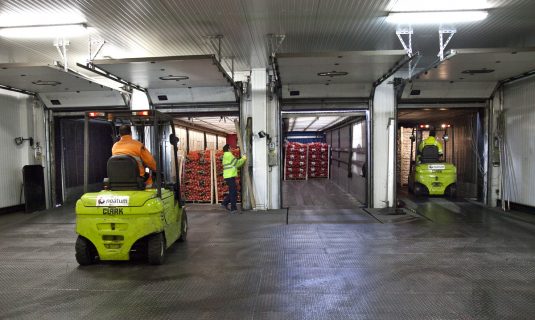 Collaboration with Mercabilbao
In recent years, the Port Authority of Bilbao has committed itself strongly to increasing the fruit and vegetable entry and exit flows. As a result, it collaborates closely with Mercabilbao, the largest perishable foods distribution centre in the north of the Iberian Peninsula, thus benefitting from these synergies in order to attract more shippers and new shipping lines.
Last year, the facilities at Mercabilbao handled 215 kilos of fruit and vegetables. In 2015, in parallel to its sales activity, Mercabilbao's internationalisation strategy took off, allowing it to connect with European markets, such as the United Kingdom, through the Port of Bilbao for the re-dispatching of fruit.
Mercabilbao occupies a thirteen-acre area where 100 companies, employing nearly a thousand people, and receiving 2,687 vehicles daily, operate.
Its hinterland reaches the whole of the Basque Country, Burgos, La Rioja and Cantabria, as well as other central markets in Valladolid, Segovia, Navarra, Zaragoza and Asturias.