The Port Authority of Bilbao has awarded the works for the construction of two new internal rail accesses to the temporary consortium formed by Excavaciones Viuda de Sainz and Comsa. One of the works will be carried out at the container facilities managed by the Noatum Container Terminal Bilbao, situated at Dock A1; the other will be in the third phase of the Storage and Distribution Zone (ZAD3), located at Dock A2. The total cost of the award amounts to nearly 1.7 million euros and the time for compliance is nine months.
The aim of both works is to optimize the present internal accesses of the Port of Bilbao by providing bypasses as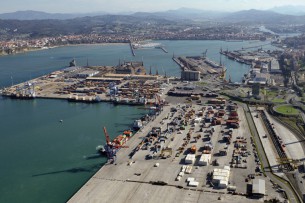 alternatives for rail traffic in order to guarantee service to the companies in the zone in case of breakdowns or the need to carry out conservation works.
Container traffic by rail has increased in recent years in the Port and has risen from 13% in 2012 to 18% in 2014. This, together with the general increase in its container traffic, means that "the Port is obliged to guarantee internal rail traffic by giving assurances about the service and providing improvements for alternatives in convoy circulation" according to Port Authority sources.
The improvement in the accesses, as well as the increase in the number of weekly services between the Port and different points on the Iberian Peninsula, form part of the Port Authority's strategic plan to increase rail traffic entering and leaving the Port, and thus increase its inland hinterland.
At present, shippers have intermodal rail services available connecting the Port of Bilbao with Vitoria, Burgos, Madrid, Guadalajara, Seville, Zaragoza, Navarra, Barcelona, Castellón, Valencia and Murcia. The latter is a reefer train which, at the moment, departs from Nonduermas twice weekly.