The Board of Directors of the Port Authority of Bilbao has given the go-ahead to the entity's participation in the companies operating the Adif terminals in Plaza Zaragoza and in Nonduermas (Murcia) respectively, once it is officially confirmed by the public organism, Spanish State Ports.
This move forms part of the Port Authority's strategy to penetrate its operational hinterland in order to be situated in all of the most important logistics nodes of the same and to opt for collaboration with determined agents and logistics and rail operators.
The exploitation of the Adif intermodal terminal in the Plaza de Zaragoza Industrial Area- devoted to the management of intermodal services, commercialisation and logistics of rail transport goods – was awarded by public tender to the consortium formed by Noatum Ports, Grupo Logístico Sesé and Logitren Ferroviaria. This was later constituted into a company denominated Noatum Rail Terminal Zaragoza S.L. with the commitment to allow the participation of the Port Authorities of Valencia and Bilbao once the necessary administrative procedures had been fulfilled. Both ports will have a 10% holding.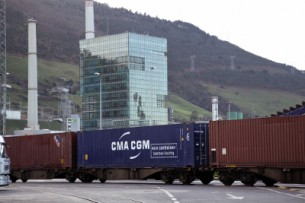 In February 2013 the Rail Logistics Centre at Nonduermas Murcia was also awarded by Adif to the MacAndrews and Continental Rail consortium, which was later joined by Transportes Fuentes from Murcia. The consortium was finally constituted under the denomination of Reefer Terminal EIG (Economic Interest Group). The strategic aim in this case was for the Port Authority of Bilbao, with a 10% holding also, to attract rail transport carrying refrigerated containers with horticultural products from the Eastern Mediterranean for later re-despatch to Northern Europe by sea.