The boat known as the Athletic Bilbao F.C. Barge will be on display as from today at the Maritime Museum's outer dock, now that the Port Authority of Bilbao has completed the fitting out works before definitely handing it over to the Museum for everyone to enjoy.
The fitting out cost nearly 80,000 euros and consisted of:
Clearing the deck of all elements superfluous to the exhibition needs.
Towing up river from its berth at Santurtzi Docks, Port of Bilbao, to the Museum.
Hoisting by two large cranes.
Building concrete supports to hold the barge.
Cleaning and painting of the hull.
Installing safety handrails all around the outside of the barge.
Building and fitting of a gangway in order to access the boat from the river banks.
Installing a commemorative plaque explaining the barge's history in Basque, Spanish and English.
The barge forms part of the Museum's permanent exterior boat collection, and is situated at the end of one of the oldest docks in the country that belonged to the now defunct Euskalduna Shipbuilders. Next to it stands the hopper barge Portu, the first craft built by the shipyards in 1902, where the new San Mames football stadium can be seen from.
The entrance fee to the Museum includes access to the dock to see all the boats, as well as to the interior of the barge. Visiting times are from 10.00 to 18.00 hours Tuesday to Friday, and 10.00 to 20.00 hours at weekends.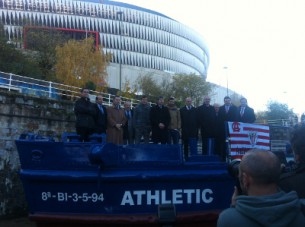 Fifty years' history
Gabarra Athletic dates from 1960 when the Port Authority of Bilbao ordered the building of a barge from Celaya Shipbuilders at Erandio for auxiliary and maintenance work in the Port of Bilbao. It is 18.5 metres long and 8.5 wide.
It was christened Gabarra Athletic when Athletic Bilbao F.C. used it to celebrate, together with their supporters, winning the Spanish League Championship in 1983, and the League and Cup double in 1984.
In 2013, after more than half a century providing service in the Port of Bilbao, the Port Authority donated it to the Bilbao Maritime Museum considering "this boat has gone from being a working tool that has more than paid its way to become a symbol for all Athletic Bilbao supporters."
Thus, although it has been retired from port work, it has been recovered for the public at large.