Last year 57,000 cruise passengers visited the Basque Country
In 2013, 44 cruise vessels called at the Port of Bilbao bringing 57,000 cruise tourists to the Basque Country. These passengers came from the United Kingdom (33%), Spain (20%), the USA (19%), and Germany (5%).
It is interesting to point out that 3 companies –MSC Cruises, Iberocruceros and Pullmantur- have yet again renewed their confidence in the Port of Bilbao as a hub port offering the opportunity to embark and disembark at Bilbao.
Another important fact has been the commitment of Celebrity Cruises (Royal Caribbean Group) to the Port of Bilbao: for the first time, the Celebrity Constellation made 7 overnight calls.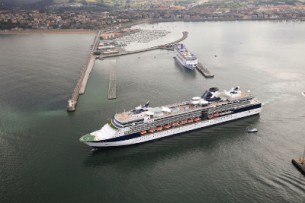 For the 2014 Season, a 25% increase is forecast for both cruise vessels and passengers.
To cater for the growing demand for Basque Country as a cruise destination, the Port Authority will bring a new cruise facility into operation this spring. The new pier is 354 m long and has a draft of 12 m and is being built alongside the existing facility. The pier represents an investment of 13.8 million euros in regional cruise tourism and further reinforces Bilbao's position as one of Spain's leading cruise ports.
From spring 2014, Bilbao will be able to provide cruise lines with 1000 metres of berthing lines with 12 m draft and will cover a surface area of 34,000 square metres.
Based in Getxo, the cruise facility is located within walking distance of its attractive marina and only 1 kilometre from one of its many EU Blue Flag beaches.
Bibao city centre is only a twenty-minute drive away, as is the International Airport. Shuttle buses are available for the beach and nearby World Heritage Hanging Bridge and for Bilbao city centre.
Representatives of the Port Authority of Bilbao will travel to the Seatrade Miami Exhibition and will be too pleased to provide more information from stand 659.