This Wednesday, 12 October, the Herriko Plaza in Barakaldo will host "the Port of Bilbao Day" (or "Kai-Jai", in Basque). This is a fun day for all the family which, through games and activities, will recognise the importance of the Port of Bilbao as the driving force behind the economic and social development of the region.
Organised by the Port Authority of Bilbao, in conjunction with the Port and River of Bilbao Foundation, this recreational-social day is mainly designed for children who will be able to participate in different activities according to their age.
Admission to the games area will be free as will be all the activities. The area will be open from 11.00a.m to 8.00p.m.
The activities were originally scheduled for 18 September, but due to the bad weather conditions had to be postponed.
With regards to traffic volume, infrastructures and number of shipping lines, Bilbao is the main port on the Bay of Biscay. Some 5000 people regularly visit its facilities, and the Port Authority alone employs 270 people.
The aim of the Port and River of Bilbao Foundation is to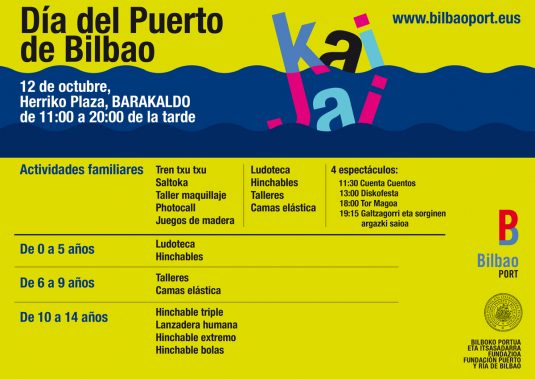 promote general-interest plans and actions of a wide socio-cultural and recreational nature with a view to providing better knowledge of how important the past and present of the Port of Bilbao and the River of Bilbao itself has been in the economic and social development and integration of the riverside towns. The Foundation is made up of representatives from the Port Authority and the nine riverside towns of Barakaldo, Bilbao, Erandio, Getxo, Leioa, Portugalete, Santurtzi, Sestao and Zierbena, while some twenty companies and entities related to port activity also collaborate.