Today, the arrival of two cruise vessels has closed a record season in the same year as the inauguration of the new Maritime Station at Getxo. In all, 61 ships, ten more than last year, have berthed, which works out at an average of just over more than one per week.
Still pending final passenger figures, which will exceed 80,000, this has been, without any doubt, a very positive year for cruise tourism in the Basque Country.
Of the total number of calls, ten were first-time, six overnight, and on two occasions three vessels coincided on the same day. Today, Hapag Lloyd's Europa (RCCL Group) and P&O's Aurora, (Carnival Group) have closed the season. The Europa berthed at 7.00 a.m. and will depart at 8.00 p.m., while the Aurora arrived at 7.45 a.m. and sails at 5.00 p.m. The Europa brought 279 passengers on board of whom 266 disembarked and the Aurora arrived with 1,912. Today, nearly 2,500 tourists passed through the Getxo Cruise Passenger Terminal.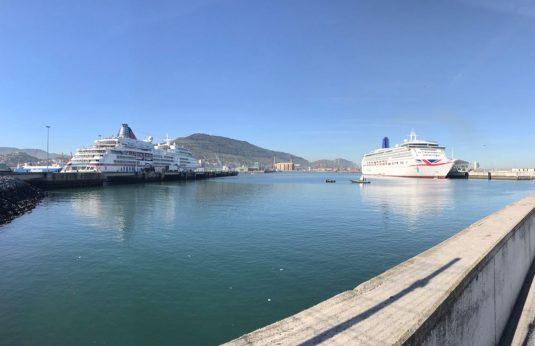 The Port Authority of Bilbao is satisfied with this increase, which has been influenced by intense commercial work and the new passenger terminal.
In March at the Miami / Fort Lauderdale Fair – the most important on the international circuit – the plans for 2018 will be made known.