Today some twenty people took part in the Port of Bilbao's first mock marine pollution drill of the year, which was coordinated by the Port Authority. The drill took place in the surroundings of the Getxo Cruise Berth where the Port's Interior Maritime Plan for accidental marine pollution was successfully put to test with the coordination of the different agents involved.
The drill began at 12.00 and lasted two hours. Craft belonging to the Port Authority, the Mooring Association of the Port of Bilbao and the Ibaizábal Tug Company, which provides the tug services in the Port of Bilbao, took part.
One of the first and most important actions was the placing of a 400-metre long containment barrier. Later, other containment and hydrocarbon collection means were employed in the sea.
Bilbao is one of the ports in Europe, which has available more of its own means to face this type of emergency. The Port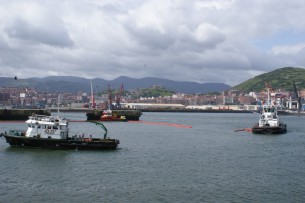 Authority, for example, has four containers with different types of containment barriers, which together total 1,650 metres. To this must be added the barriers belonging to industrial companies located in the Port of Bilbao like Petronor, Tepsa and Esergui, as well as those of the Port mooring and tug operating companies.