Brittany Ferries has added a third call on its Bilbao-Portsmouth route, which will be carried out by the Baie de Seine – a 200-metre long ferry with a capacity for 600 passengers in its 200 cabins and 160 cars and 84 lorries in its holds. As from now, the vessel will sail on Tuesdays, Wednesdays and Thursdays.
Ferry links with the United Kingdom help to cut lorry and car traffic on the roads and as a result, to reduce greenhouse gas emissions. The average crossing time (24 hours) allows customers to respect the compulsory tachograph rest times; tourists can also enjoy the comforts of a cruiser while their vehicles lie below. A great number of hauliers carrying perishables, such as fruit and vegetables in refrigerated containers to the United Kingdom use the line.
Since its founding in 1972, Brittany Ferries has grown into one of the main maritime transport lines in the centre and on the west of the English Channel. It has operated from the Port of Bilbao with the Cap Finisterre since March 2011, which covers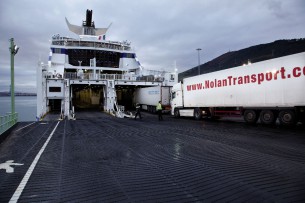 the Tuesday and Thursday services. Now for the Wednesday service, it will be joined by the Baie de Seine.
The ferry terminal has direct motorway access, and is only 20 minutes from the centre of Bilbao and the airport by road.