The calendar can be obtained at the Basque Museum
The Port Authority of Bilbao and the Basque Museum of Bilbao are reviving the figure of Pedro Telesforo de Errazquin Astigarraga, the renowned Bilbao entrepreneur and amateur photographer, through the selection of thirteen of his images which will make up the Port Authority's traditional calendar and which can be obtained at the Museum.
The photographs, dated between 1860 and 1895, form part of an archive of 530 kept in glass frames at the Basque Museum, and the latter's collaboration, will enable them to be appreciated on the 2020 calendar: this will be complemented by an open-air exhibition, lasting until 12 January, in Calle Cruz in the Casco Viejo (Old Quarter) of Bilbao, near Santos Juanes Church.
The selected photographs show places virtually unrecognisable nowadays, and were taken between the old Bilbao docks and the Abra Bay. They also constitute an exceptional historical document as they are true witnesses of the significant changes that our River has undergone throughout time.
Pedro Telesforo de Errazquin Astigarraga was born in Bilbao in 1834. He was only twenty-six when he took charge of the family shipping agency "Viuda de Errazquin e Hijos" whose accumulated real estate assets placed it among the twenty most important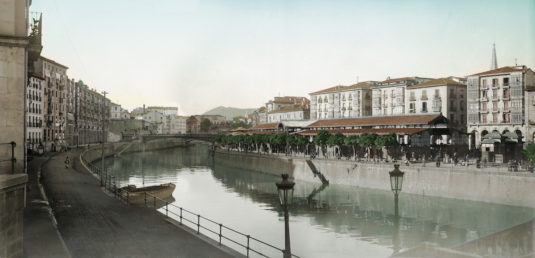 landlords in Bilbao. In May 1886, his prestige as an entrepreneur led to him being nominated the first Chairman of the Chamber of Commerce, Industry and Shipping of Bilbao. In 1887, he presided the Societé Centrale de la Dynamite, the supranational organ grouping the four Nobel factories situated in France, Italy, Switzerland and Spain. He also headed Unión Española de Explosivos —founded in Bilbao in1896 – until his death on 7 July 1898. The professional figure of Pedro Telesforo is complemented by his work as an amateur photographer, which is now being revived thanks to this collaboration.
Last year, the Port Authority and the Basque Museum also collaborated in reviving the work of another photographer, Eulalia Abaitua, whose camera immortalised features of daily life in Bilbao and Biscay at the height of the Industrial Revolution.