Nordikmaritime, who operates a service between Bilbao and Esbjerg (Denmark) each fifteen to twenty days, made a presentation in the Port of Bilbao coinciding with the four and a half years the service has been in operation.
In addition, the line also makes alternative calls to the German port of Cuxhaven, and subject to inducement, to ports in the Baltic, Scandinavia and others en route.
The company is now commencing a new stage in order to reinforce this line, the only one offering regular services between Spain, Germany and Denmark, which is aimed at general cargo, and mainly special projects by employing vessels adjusted to customer requirements.
Loading is generally at Bilbao on Thursdays-Fridays and discharge at Cuxhaven-Esbjerg on Wednesdays-Thursdays with a view to adapting to end-customer needs.
In the words of the Nordikmaritime management commenting on the four and a half years', "this service, which at present is northbound, is fully consolidated and is an alternative with important advantages over road transport. Among these are transit times, which avoid traffic jams on the French and German roads, the fact that it is not subject to driver rest times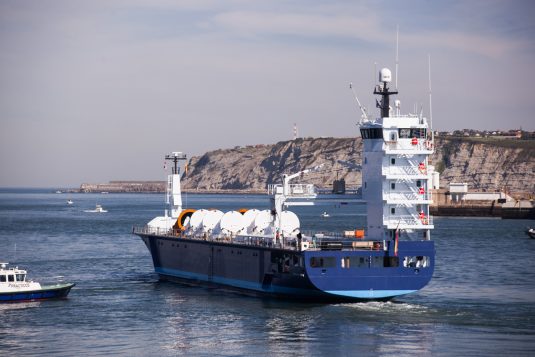 and it offers very competitive prices". Therefore, in accordance with customer demand, the company does not rule out increasing present service frequency and being able to opt for offering the same southbound.
By using flexible single hold vessels of about 4,000 DWT and overall length of 90-95 metres and equipped with only one hold, the service can accommodate all types of cargoes of practically any dimensions and weights. The service is also able to offer feeder operations for those oversized breakbulk cargoes leaving Bilbao for transhipment and on-carriage to other continents via the ports of Northern Europe.