• New accesses suppose more efficient container reception and delivery management, significantly reduce truck waiting times and guarantee total control of process and register in real time
• 0f the 34 million euros committed to investment in Port of Bilbao for 2016-2036, nearly 10 million being used in period 2016-2018
• Event presided by Arantxa Tapia, Basque Minister for Economic Development and Infrastructures
Today, Noatum Container Terminal Bilbao, belonging to the Noatum Ports Group, and Port of Bilbao container terminal operators, inaugurated the new automatic truck access system that will enable Port Authority of Bilbao complementary telematics solutions to be optimised.
The inauguration was presided by Arantxa Tapia, the Basque Minister for Economic Development and Infrastructures in the presence of among other authorities, Aintzane Urkijo, Mayor of Santurtzi; Asier Atutxa, Chairman of Port Authority of Bilbao (PAB); Sun Kai, CEO Noatum Ports; Douglas Schultz, Chairman Board of Directors Noatum Container Terminal Bilbao and José Angel Corres, Chairman of Chamber of Commerce Bilbao.
The new facility comprises 7 entry and 3 exit gates. Besides, direct truck access has been implemented by way of access codes. Bringing this into operation supposes more efficient management of reception and delivery of containers by significantly reducing truck waiting times and guaranteeing total control of the process and registering the operations carried out in real time.
In addition, the new facility will allow the space dedicated to the previous gates to be used for the extension of the rail terminal inside the leased lands: that is, the four 450-metre long tracks will be extended by a further 100 metres, thus enabling the operation of trains of up to 550 metres long with two Rail Mounted Gantry cranes once the extension is completed as well as providing a container-stacking area.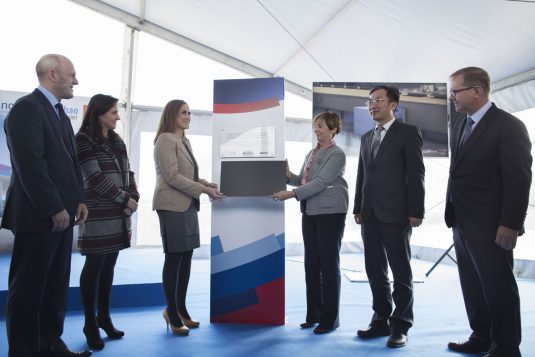 According to Sun Kai, new Noatum Ports CEO, "This act is a reflection of Noatum Ports' total commitment to the Port of Bilbao, with a view to strengthening the terminal's development in the coming years, which will suppose a direct positive effect on the Basque industrial fabric, exports, employment and Basque society in general".
Asier Atutxa, Chairman of Port Authority of Bilbao pointed out that for him "the Noatum Container Terminal Bilbao is destined to become an intermodal terminal where all transport modes – sea, road and rail- converge in one logistics space; so this investment to improve accesses will contribute decisively to consolidating its capacity and hinterland potential".
Terminal and Platform Investment
Once the investment project in the new accesses has been completed, the extra 100-metre rail terminal extension will be undertaken, with both projects supposing 4 million euros investment. Besides, renewal of associated equipment means a further 6 million investment in yard and rail cranes, which is indispensable for the necessary updating of a terminal with future pretensions. 0f the 34 million euros committed to investment in the Port of Bilbao for the 2016-2036 period, nearly 10 million are being dedicated to 2016-2018.