Chilean agronomists and representatives from Pro-Ecuador visit fruit and vegetable facilities to establish basis for possible import-export goods alliance
Mercabilbao with Port of Bilbao have been working for some months as forwarding point for rest of Europe
Mercabilbao (the commercial company that administers all the wholesale markets in the Greater Bilbao area and also the largest perishables distribution centre in the northern Iberian Peninsula) and the Port Authority of Bilbao are progressing in their internationalization strategy to open up new markets.
In line with this strategy, last Friday a group of Chilean agronomists, who are carrying out a project with HAZI (an association belonging to the Basque Government Department for Economic Development and Competitiveness) at its Derio (Biscay) centre, together with the project manager and two representatives of one of the fruit operators from the market, visited the Mercabilbao Fruits and Vegetables facilities. During their visit, they were able to gather information about products and procedures as well as the market's workings.
Then, after the Mercabilbao management briefly presented the most important facts about the market and its magnitude, followed a discussion about the need to update and modernize the wholesale markets in Chile and of the possibilities of taking up the good management practices shown in Mercabilbao.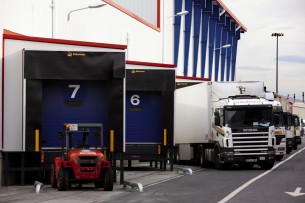 Later, the group was transferred to the Port of Bilbao where they visited the largest container terminal in the north of Spain, and the Border Inspection Post. This service, with its 16 loading bays, guarantees that perishable goods from third countries will be able to enter the EU under the same health guarantees. In addition, it has an innovating model to expedite operations through the Port of Bilbao's e-commerce platform.
Likewise, some days previously there was a meeting with Pro-Ecuador, the Institute for the promotion of exports to and investment in Ecuador: this enabled the setting up of direct contact between both entities, the providing of information about Mercabilbao's functions and services, as well as analyzing possible opportunities for mutual cooperation in the creation of an integrated logistics platform.
The Institute also held a meeting with business people from Mercabilbao's Fruits and Vegetables Sector and dealt with matters surrounding the imports of Ecuadorian goods and/or the re-forwarding of goods from Mercabilbao (bananas and plantains, pineapples, avocados, mangoes, physalis and passion fruit. The day ended with a visit to the Port of Bilbao where 1.5 million tonnes of foodstuffs were moved last year.
Logistics Platform
New market opportunities have led Mercabilbao and the Port of Bilbao to taking their first steps towards a fruit-exporting logistics platform. This initiative is the result of Bilbao's strategic geographical location, available infrastructures, existing logistics warehouses and transport flows. All this makes it possible for Mercabilbao, in cooperation with the Port of Bilbao, to become a centre which contributes added value to the chain and enables other non-traditional destinations to be reached and offer the chance to dispatch mixed cargoes. Operations such as this are profitable both from the resources level and from time and economy considerations.