In April, MacAndrews, a company belonging to the CMA-CGM shipping group, is reinforcing its present European 45-foot container refrigerated multimodal service by setting up a refrigerated train service that will link Murcia with Bilbao.
This train will depart twice weekly, although in the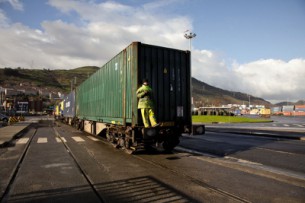 short term, a daily refrigerated rail service will be established. Thus, MacAndrews is consolidated as a multimodal option that links Spanish horticultural producers with Europe via the MacAndrews vessels operating from the Port of Bilbao.
This novel project, in which MacAndrews is a pioneer, has had the collaboration of two strategic partners: Continental Rail as a rail operator, and the Fuentes Group, for the management of the Nonduermas rail terminal in Murcia.
The project is complemented with the remodelling and management of the Nonduermas rail terminal, awarded in public tender. It is further enhanced by the investment in a novel generator system on the train itself which supplies the necessary power for the containers to function together with a control system that guarantees the cold chain's reliability.