The Port Authority of Bilbao has completed the works on the Punta Sollana Breakwater extension, which is located in the Port of Bilbao's industrial zone in the Outer Abra.
The works have taken four years and will especially boost solid and liquid bulks traffic, since the length of the dock has been increased by 330 metres with a minimum 20- metre depth while the area of dock esplanade available now stands at 20,000m². The EU has contributed some 3.53 million euros to the works as part of the "Efficient operations and improvement in the environmental performance of the Port of Bilbao" project, Call TEN-T 2012. The Port Authority's own resources were used to finance the remainder of the already certified 40.11 million euros total cost.
In the construction of the breakwater extension, the Port Authority has incorporated as a technical innovation and also more environmental-friendly, the design and execution of the wave screen as anticipated in the plans using high performance concrete with a density of up to 2.65 t/m³. To achieve this, use has been made of the steelmaking slag produced by the recycling of black slag, defined as an industrial by-product generated in steel manufacturing, in the electric arc furnaces in the different steel works in Biscay. In addition, this has enabled the budget execution to be reduced by approximately one million euros with regard to the original budget.
Strategic Works
At present, without the above-mentioned works, the Port facilities located in the industrial zone of Punta Ceballos and Punta Lucero Docks are completely occupied except for a plot in Punta Sollana.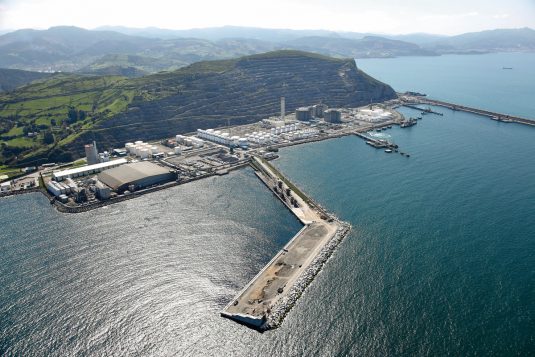 Furthermore, berth exploitation in this zone is on the verge of saturation, and in the case of Punta Ceballos Pier, this is already a reality. Before these works, the breakwater had 350 metres of linear berthing and now it has 680, which means that two vessels can dock simultaneously. In turn, this will boost bulks traffic, particularly solids, such as soy beans imports or quarry stone exports. Forecasts indicate that this improvement in operations, together with the commercial work carried out, will allow the Port of Bilbao to overtake the 4.5million tonnes of solids moved in 2015 and reach 5.8 million in 2020.
The works will also reduce the effects of the north swell which brings about high movements and overflowing on to the Punta Sollana esplanade.
The construction of these 330 new metres of breakwater-pier, which has a useful 60-metre beam, has involved the use of approximately 20,000 eight-ton and 3000 seventy-five-ton concrete blocks. One million cubic metres of filling has been used between 20% of riprap up to 500kgs and 80% of quarry run.