From 3-28 February, the Salazar Tower in Portugalete will be the venue for the exhibition "Los muelles de Portugalete a través de la fotografía" (The docks of Portugalete: a photographic portrait). The exhibition, organised by the El Abra Foundation and the Culture Department of the Town Council, consists of 48 photos and three panels. The photos have been provided by the Port Authority of Bilbao from its documentary archive collection.
As part of the celebrations organised to mark the 700th anniversary of the founding of Portugalete, the exhibition shows part of the town's history and enables visitors to see how the landscape has changed over the last two centuries as a result of the different docks that have been built, and how those docks have developed over the years.
The sea has always played an important role in Portugalete. For centuries, the town had only one dock in its port, sheltered by the Plaza del Solar, but at the end of the 19th century, and after Manuel Calvo built his nearby hotel, the new Ensanche was developed, which would be given the name of Muelle Nuevo (New Dock), and the traditional dock was renamed Muelle Viejo (Old Dock). 
This same period of time coincided with the founding of the Port Works Board, the director of which, Evaristo de Churruca, designed the Muelle de Hierro (the Iron Dock), which was to have great repercussions for the whole of Bizkaia. This was the origin of Portugalete's third dock, now officially listed as being of cultural interest.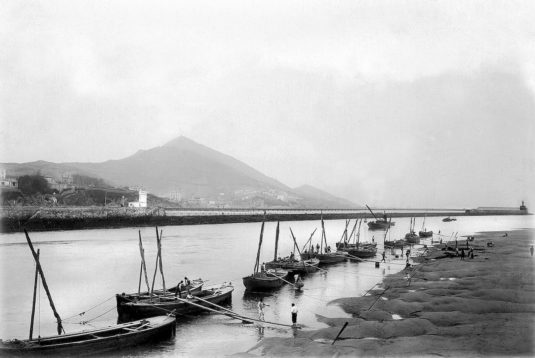 This marked the beginning of an important period of development for the town (the arrival of the railway, the equipping of the docks for ore loading, the construction of new docks for cargo vessel hulls, the construction of the Canilla tunnel, etc.), all of which also brought about significant changes in the landscape.
The Port Authority was in charge of performing, or was at least involved in, most of these works, so its collection of photographs provides a very reliable testimony of all these changes, conferring upon it a leading role in the history of the town.