Oil operator Esergui has opened a bio-ethanol storage tank at its Port of Bilbao facilities. This means that with this 600,000-litre capacity deposit, the company can now supply a volume of 1.2 millions of bio-combustible per year.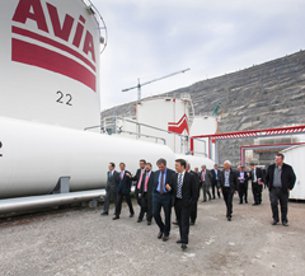 Likewise, at its new terminal, Esergui has installed four new pumps for loading sulphur-free diesel oil B with less than 10 milligrams content per kilo, compared with the thousand milligrams contained by normal diesel oil. This guarantees compliance with the European norms being introduced and allows new environmentally sustainable products to be supplied. A total of three-million euros has been invested.
Esergui has a storage volume of 220 million litres for its products in the Port's industrial zone. The terminal receives petrol and diesel oils by sea and through pipeline for use in the motor, industrial, shipping and agricultural sectors. This fuel is stored in tanks to be later transported by road tanker to AVIA petrol stations, by rail to Madrid, and by pipeline to provinces such as Leon, Salamanca, Valladolid, Zaragoza, Tarragona, Girona and also Madrid.