As part of their institutional visit to Euskadi (Basque Country) Ximo Puig, the President of the Generalitat of Valencia, (Autonomous Regional Community of Valencia) together with the Chairman of the Port Authority of Valencia, Aurelio Martinez, have visited the Port of Bilbao in order to find out about its infrastructures and development model, and especially about its dimension as an industrial port. They were accompanied by Asier Atutxa, the Chairman of the Port Authority of Bilbao.
At the meeting, the chairmen of both ports signed an operational protocol to collaborate in such aspects as intermodality and logistics as well as corporate social responsibility.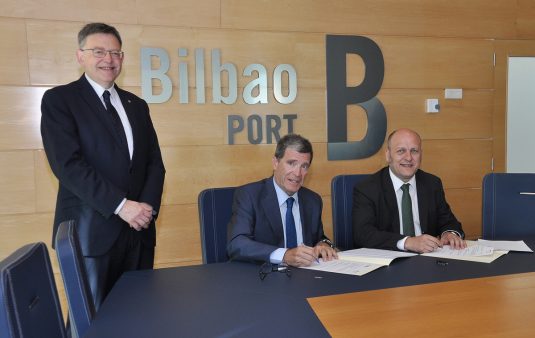 In the field of intermodality, they agreed to share experiences and knowledge about the planning, management and development of inter- and multi-modal transport between both ports; to stimulate the projects and investment that enable the creation and development of rail connections, particularly those linked with the Atlantic and Mediterranean Corridors, that enable the creation of an integrated intermodal services offer and the improvement of connections with the respective hinterlands. It was also agreed to analyse possible logistics development initiatives that could be jointly promoted, including with third-party participation, that enable the increase in competitiveness and the improvement in the transport chains passing through the respective ports.
With regard to corporate social responsibility, it was agreed to contribute to the maintenance of the good practices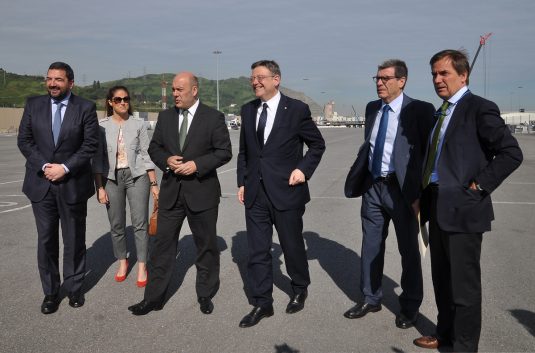 certification in promoting health in the workplace, to develop lines of cooperation to hold scientific and informative days in port community health and to share know-how and experiences both in occupational accident prevention and in achieving a healthy company as an objective.
Common aims
Throughout the meeting, the harmony was evident between the two ports, whose main objective is to increase their competitiveness so as to provide a better service to the economic sectors of their hinterlands.
Both Aurelio Martinez and Asier Atutxa share the view that competitiveness among ports requires the development of intermodality and logistics with a view to increasing transport chains efficiency and the resulting expansion of their respective hinterlands. In fact, both Bilbao and Valencia are already immersed in such an improvement strategy, with actions being taken in logistics zones and in dry ports.
Then again, their corporate social responsibility policy provides for the strengthening of their respective strategies in occupational risk prevention as well as the improvement in the health and welfare of their employees. In this sense, both Port Authorities have obtained the "Recognition of Good Practices" certificate awarded by the Spanish Institute for Safety and Hygiene in the Workplace.