First cruise arrival scheduled for 11 April
Royal Caribbean has included the Port of Bilbao within its first commercial circuit that the Anthem of the Seas, the second largest cruise vessel in the world, will undertake. This ship, whose building is about to be completed, is 348 metres long, has a 167,800 DWT and a capacity for 4,200 people. It will visit the Basque Country for the first time on 26 April, and will repeat on 16 June, 26 September as well as on 9 and 26 October.
Due to its length and capacity, the Anthem of the Seas will dock at the new Getxo cruise berth inaugurated by the Port Authority of Bilbao in May last year. Bearing in mind that vessel size is increasing more and more this new infrastructure enables passengers and shipping companies to receive optimum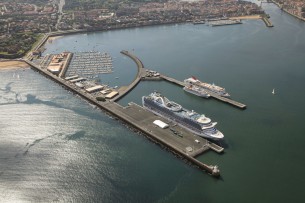 attention, while at the same time it opens up new business opportunities that will be consolidated over the coming seasons. In addition, a maritime station is planned there for 2016.
Pullmantur Embarkations
This season, Pullmantur's commitment is also worthy of mention: its cruise vessel Empress will embark from Getxo on 16 May and 19 September respectively on eight-day routes in the European Atlantic Arc.
In addition, such mention must also be made of the Carnival Group which has also committed itself to Bilbao for some years. This season its Britannia and Aida Bella will berth for the first time and join other ships, like the Ocean Princess and Prinsendam that will repeat calls.
Other regular companies will also visit the Port of Bilbao in 2015: thus the British company Fred Olsen will make five calls, the same as Oceania Cruises. The Port of Bilbao will also receive cruise vessels from Crystal Cr., Linblad, Louis Cruises, Phoenix Reisen, Residence at Sea, Sea Cloud and Silver Cr.
This year, the first cruiser to berth at Getxo will be Fred Olsen's Boudicca on 11 April.
Forecasts for the season indicate that between 44 and 46 cruise vessels will dock over the season.