The temporary consortium formed by INBISA Construcción, Gaimaz and Intxausti, has reached its first target in the construction of the new 48,000m² plant for the Haizea Wind Group on Dock AZ-2 in the Port of Bilbao. This will be dedicated to the manufacture of off-shore wind towers as well as to outdoor storage of finished products. It consists of three large pavilions built in parallel, each 20 metres high and topped with pre-fabricated concrete delta beams. One pavilion is 250 metres long and the other two 500 metres. In this stage of the works, 256 pre-fabricated columns of up to 22 metres height have been erected and 133 beams up to 36 metres long.
Total work execution time at an estimated cost of over 17 million euros, is seven and a half months, and it is scheduled for completion next February. A 610 m² office building is also being developed as part of the works in addition to a 22,000 m² surface area.
This structure has been completed halfway through the works schedule, together with the completion of the office building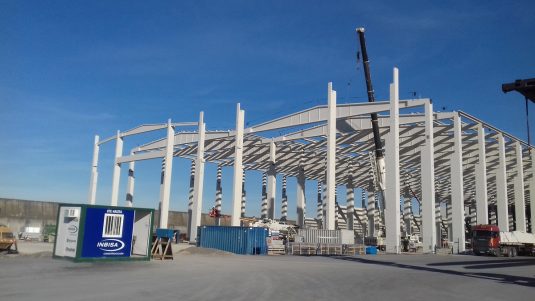 front and 50% of the roofing in accordance with the maincontract targets set out by the Port Authority of Bilbao. The construction companies, for their part, have carried out periodic controls and coordination on execution of the pre-fabricated structure with a view to checking the elements, the planning schedules and monitoring the carrying out of the contracted times.