Despite this year's edition taking place online, Fruit Attraction remains an attractive trade fair for contacting exporters and importers of fruit and vegetables. The pandemic has not curbed the Port of Bilbao's interest in this fair, to be held throughout the month of October, as an opportunity to consolidate its position, alongside Mercabilbao, as a hub for the import and export of fruit and vegetable products in the north of mainland Spain, and to explore new ways of showcasing what it has to offer and its competitive advantages in this market.
As representatives of the organisations explain: "We work together to increase the flow of incoming goods from places such as South Africa, South and Central America, and the reshipment of fruits and vegetables to Europe and the rest of mainland Spain".
The Port Authority of Bilbao will showcase the capacity of the area in terms of infrastructure and services and, in particular, with the United Kingdom and Ireland, markets with which services have been stepped up and operations streamlined to meet the new demand generated by Brexit.
In 2019, traffic of fruit and vegetables through the Port of Bilbao topped 167,000 tons, 7% more than in the previous year. Once again, the main products comprising this traffic are vegetables (onions, garlic and leeks), citrus fruits, potatoes and lettuce. Among the products with the highest growth rate are citrus fruits, onions, garlic, leeks and bananas. An important fact to bear in mind is that, so far this year, the traffic of reefer containers has grown by 268%.
Advantages for Brexit
The Port of Bilbao has the necessary infrastructure and facilities to service UK traffic after its departure from the EU at the end of the transition period. The United Kingdom is its main market, with which it moved around 3.4 million tons in 2019, and operators offer excellent connectivity with British ports.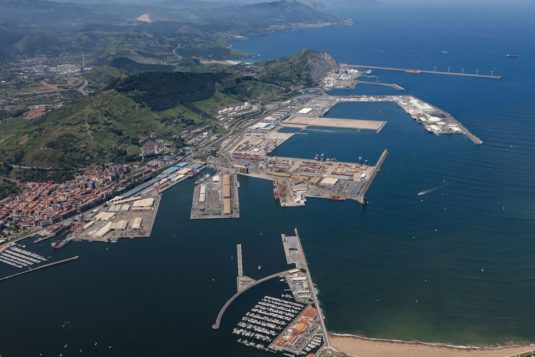 Furthermore, the e-puertobilbao electronic platform has helped simplify processes and information exchange to speed up operations through the Port of Bilbao. This platform is already used by more than 800 companies.
Since 1993, the port has also had a Border Control Post (BCP), which is still one of the most advanced among Spanish ports. It is a high-capacity facility, operational 24 hours a day with 16 lorry loading bays. The port provides the following services: a Border Inspection Post (BIP), an unloading port, Designated Points of Entry (DPE), DPE/DPI (Designated Points of Import, points for the control of food products from certain third countries), radioactivity monitoring, Authorised Customs Areas (ACA) and FPI (First Points of Introduction).
Through the virtual stand of the Port Authority at the trade fair in Madrid, both visitors and exhibitors can contact the BCP regarding imports of fruit and vegetable products through the Port of Bilbao. Enquiries should be made through the following e-mail address: administración-pcf.bizkaia@correo.gob.es