The Port of Bilbao and Mercabilbao are to take part in Fruit Logistica, to be held in Berlin from 5 to 7 February, with a view to market expansion and securing new fruit and vegetable traffic.
Fruit Logistica is the main European trade fair in the sector. The representatives of the port, together with Mercabilbao, will be showcasing their capacity in general in terms of infrastructure and services for this trade, and in particular with the United Kingdom and Ireland, a market for which they have strengthened services and streamlined operations to meet the new demand generated by Brexit.
In 2019, fruit and vegetable traffic in the Port of Bilbao exceeded 167,000 tonnes, 7% more than the previous year. Once again, traffic in vegetables, consignments of onions, garlic and leeks, citric fruits and potatoes and lettuce led the way. Products with the highest growth rate include citrus fruits, onions, garlic and leeks and bananas.
Advantages for Brexit
The Port of Bilbao has all the necessary infrastructure and infostructure to deal with UK traffic after its departure from the EU when the transition period ends. The United Kingdom is its main market, with which it moved around 3.4 million tons in 2019, and operators provide excellent connectivity with 49 British ports.
Since 1993, the port has also had a Border Control Point, which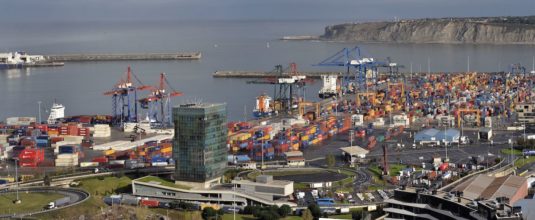 is still one of the most advanced among Spanish ports. It is a high-capacity facility, operational 24 hours a day with 16 lorry loading bays. The port provides the following services: a Border Inspection Post (BIP), an unloading port, Designated Points of Entry (DPE), DPE/DPI (Designated Points of Import, points for the control of food products from certain third countries), radioactivity monitoring, Authorised Customs Areas (ACA) and FPI (First Points of Introduction).
Furthermore, the e-puertobilbao platform helps simplify processes and enables automated information exchange to streamline operations through the Port of Bilbao. This platform is already used by more than 750 companies.
Similarly, adjustments to service timetables have been agreed with public bodies; the operation of the ferry terminal has been adapted to the possible needs of new controls; new lorry flows have been reviewed; incentive parking (park-and-ride) has been set up for lorries in case it is required; and an increase in staff has been approved.