The Ministry of Transport, Mobility and Urban Agenda (MITMA) has today conducted a rescue and marine pollution control exercise under the name PolEx 22 (Pollution Exercise), in the vicinity of the cruise terminal of the Port of Bilbao. The drill, organised by the Directorate General of the Merchant Navy and Maritime Rescue, was carried out to improve coordination and crisis management between all the organisations involved in marine emergencies, to check that safety standards are maintained and to verify the level of training of the personnel involved.
The exercise involved a wide range of sea and air resources from Sasemar, as well as members and resources of the Guardia Civil, the Ertzaintza, the Red Cross, Customs Surveillance and the Port Authority of Bilbao itself, which deployed a containment barrier, with the tug Evaristo Churruca II and the auxiliary vessel Hirurak Bat.
The exercise consisted of simulating a collision between a general cargo ship bound for Bilbao and a fishing vessel. The accident caused a spill of some 70 tonnes of fuel oil into the sea in the first half hour, and one injury among the crew of the fishing vessel. During the exercise, an anti-pollution barrier was extended from the rescue tug María de Maeztu, with the assistance of the Salvamar Alcyone lifeboat, and the injured man was evacuated to land by air. Likewise, the crisis office activated the National Maritime Plan in emergency situation 2.
The Secretary General for Transport and Urban Mobility, María José Rallo del Olmo, took part in the presentation ceremony and stressed the importance of this type of training, which undoubtedly enables a more effective response in real emergencies related to the rescue of human lives and combating marine pollution.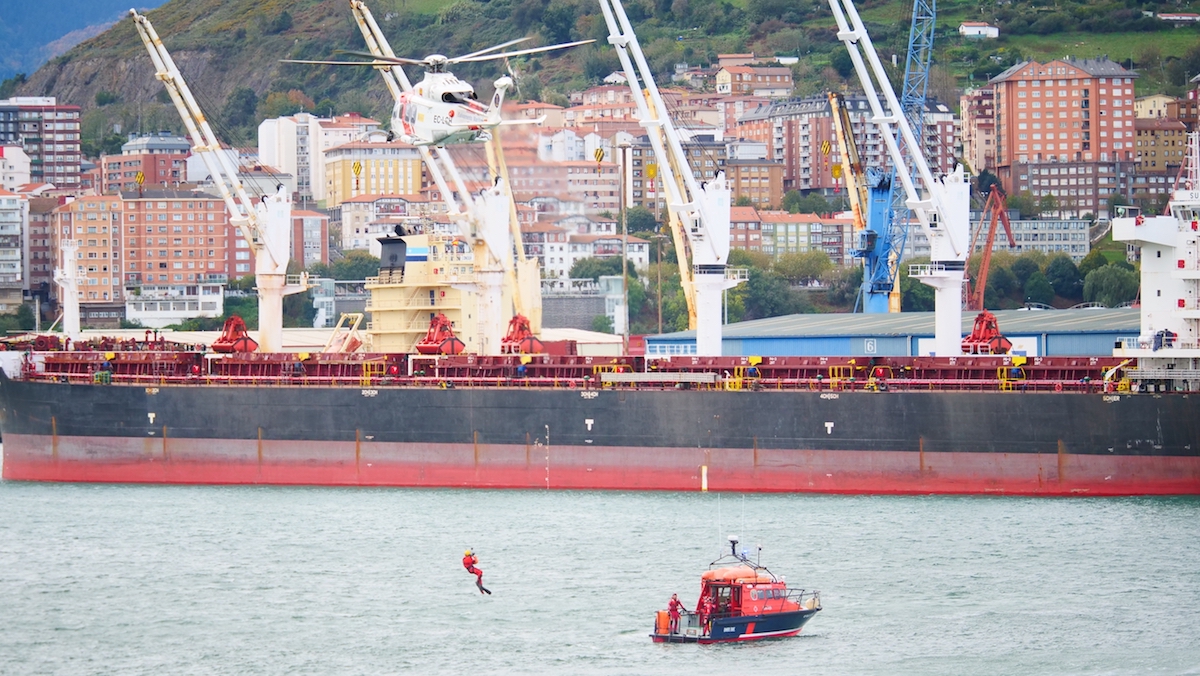 For his part, the President of the Port Authority of Bilbao, Ricardo Barkala, thanked the MITMA for having chosen this port for the drill. He also stressed the importance of prevention as a basic activity and that, for this reason, Bilbao has become a leading European port in terms of being equipped with its own resources to deal with this type of emergency.
The entire drill could be seen live from the cruise terminal of the Port of Bilbao in Getxo, in the presence of authorities and representatives of the national, regional and local bodies that regularly participate in maritime emergencies in the Basque Country.
More information and a streamed video of the entire exercise