The container ship "Containerships Borealis", one of the newest and largest vessels in the Containerships fleet, has become the first vessel powered by liquefied natural gas (LNG) to dock in the port of Bilbao. Launched in March this year, the vessel is 170m long, 27m wide, has a draft of 9.6m and a maximum capacity for 1,380 containers. The vessel, coming from Rotterdam and Dunkirk, docked at the container terminal managed by CSP Iberian Bilbao Terminal, and will depart on Tuesday for Tilbury and Rotterdam.
Containerships is the first container ship company to commission LNG-powered vessels in Europe, as part of the CMA CGM Group's sustainability strategy. Currently, six vessels in its fleet are powered by LNG. With seven weekly departures from the port of Bilbao that have directly connected the Bilbao area with the United Kingdom, Ireland, Sweden, Poland, Norway, Russia and other parts of Europe for decades, Containerships offers a door-to-door service and 20, 40 and 45-foot containers.
As part of the CMA CGM Group, Containerships has long been actively working on the sustainability of intermodal transport. To that end, and as a pioneer initiative, the company offers a package of products that support the energy transition from fuel oil to LNG as a fuel for maritime transport. The four products offered by CMA CGM Containerships to reduce its carbon footprint are Cleaner Energy LNG, Cleaner Energy Biofuel, Cleaner Energy Biomethane and Positive offset, all of which are offered on a shipment-by-shipment basis and are certified by an independent third party, thereby enabling the company contracting the product to align it to its internal sustainability and quality policies.
Thanks to CLEANER ENERGY LNG, customers can use LNG in their shipment by sea, or, in the absence of an LNG vessel on the route they require, offset their emissions by purchasing LNG credits. As part of this process, customers receive an official declaration with both products that certifies the savings associated with their specific shipment. Use of LNG technology helps to significantly reduce harmful emissions, including up to 99% of sulphur (SOx) emissions, 92% of nitrogen oxide (NOx) emissions and 91% of suspended particles (PM10). CO₂ emissions can be reduced by 15% well-to-wake (fuel production and use cycle) and up to 23% on a tank-to-wake basis.
Sustainability has long been the focus of the company's entire portfolio of intermodal transport solutions, which translates into the construction and purchase of LNG-powered ships and trucks, respectively, in a clear and firm commitment to offering sustainable products.
Energy transition projects
The Port of Bilbao has also undertaken and/or been involved in several other renewable energy and energy transition-related projects. On the one hand, since 2005, the port has been home to a wind farm comprising five Gamesa wind turbines generating 17,500 MWh/year for the power grid. The wind farm is managed by the company Energías Renovables el Abra.
Furthermore, together with Remolcadores Ibaizabal, Astilleros Murueta, the State Ports Authority/ Puertos del Estado, Enagas and the Basque Government, and in conjunction with the Basque Energy Agency/ Ente Vasco de la Energía, the Port Authority of Bilbao has participated in the Connecting Europe Facility (CEF) Call 2014 F02 of the CORE LNGas Hive project, the aim of which is to contribute to the decarbonisation of the European Mediterranean and Atlantic corridors.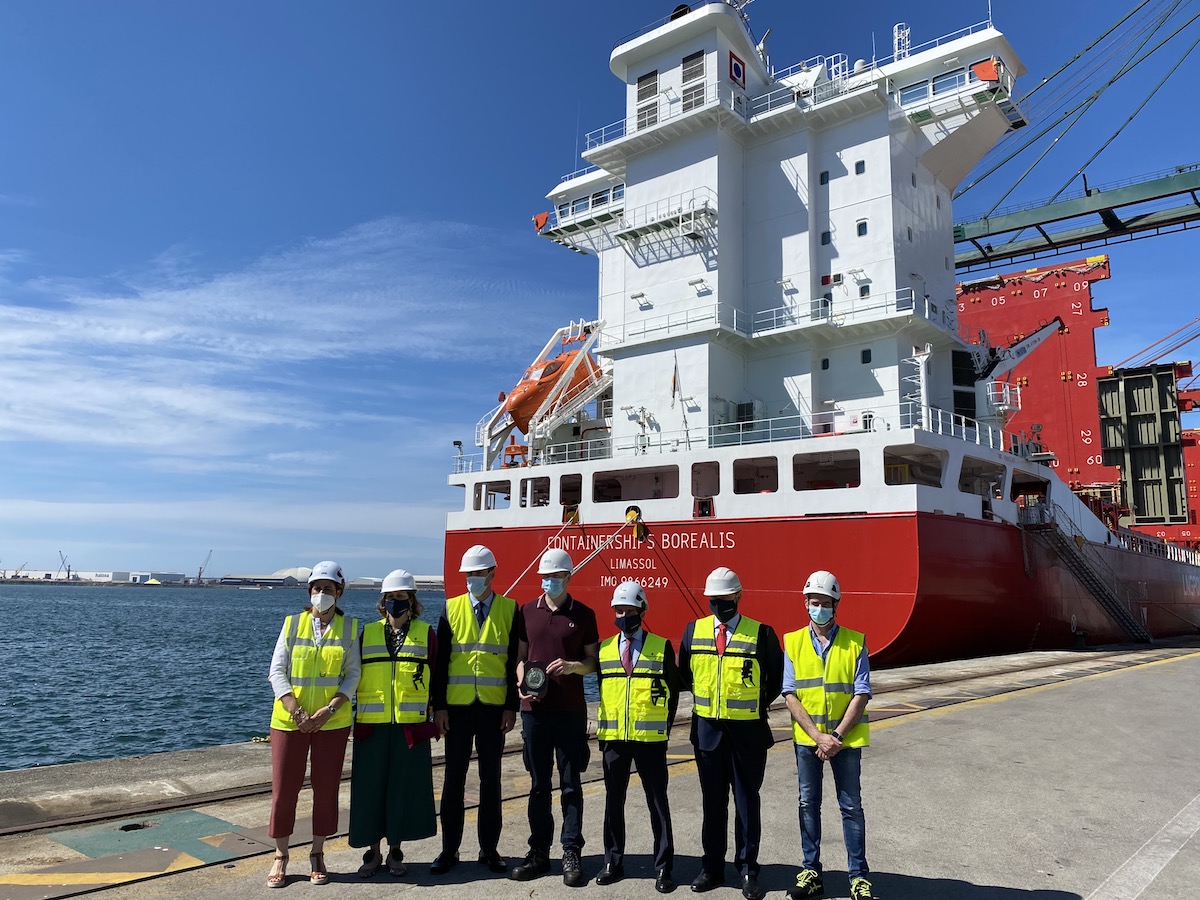 In this context, the Basque Country has led three LNG projects in the maritime sector. These projects, co-funded by the European Commission, have enabled the Basque Country to acquire a benchmark level of technological development and specialisation worldwide in this field. They are:
The adaptation, in 2018, of the jetty of the Bahía de Bizkaia regasification plant, for small vessels to be loaded with LNG from these facilities.
The commissioning, also in 2018, of an LNG supply vessel for the provision of a ship-to-ship bunkering service, both in the port and at sea.
The construction and commissioning, in 2020, of a natural gas-powered tugboat, the first in Spain, by Grupo Ibaizabal.
The Port Authority of Bilbao is also drawing up an energy transition plan for decarbonisation of port activity by 2050. In doing so, and amongst other issues, an analysis is being made of dockside supply of Bio LNG, and the plan will also promote the setting up of an LNG fuel storage and supply system for vessels. Furthermore, Repsol/Petronor is planning to install a cold ironing system by 2023 and to roll out other key strategic projects, all of which will make the port a decarbonisation hub by 2024.
One of these projects is the construction of one of the world's largest green hydrogen-powered synthetic fuel production plants. The main characteristic of this type of fuel is that the only raw materials used in its production are water and CO₂, and the fuels can be used in combustion engines of cars, lorries and aircraft, as well as in other applications. The plant will make the port of Bilbao a key player in the Basque Hydrogen Corridor.
Subsequently, the afore-mentioned project will be complemented with a gas generation plant powered by urban waste such as paper, cardboard, plastic and textiles, thereby avoiding the use of traditional fuels and promoting the circular economy. Initially, this pyrolysis plant will be able to process around 10,000 tonnes of municipal waste per year, a figure that could rise to 100,000 tonnes in later phases. This gas will be used as fuel for the refinery itself.
Last but not least, intermodal and maritime services are also being improved, which will further contribute to decarbonisation.