The riverside towns of Getxo, Portugalete and Santurtzi, in collaboration with the Port Authority of Bilbao, have resumed the summer boat trips for people to get to know the tourist potential the three places offer, as well as the impact the Port of Bilbao has on them.
The trips will take place from 2 July to 28 September, on Tuesdays, Thursdays and Sundays except for 16 July, 17, 22 and 24 August and 17 September. Five daily sailings are offered starting at 11.30 with the final one leaving at 18.55 hours.
A guide will narrate the history of the River during the trip and also point out the main points of interest along the way, which will include the Port facilities in the Outer Abra.
A novelty this year is the introduction of audio guides in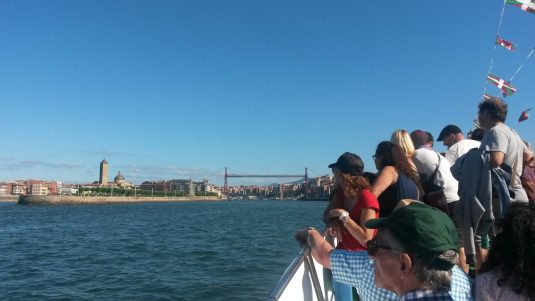 Basque, Spanish, English and French adapted to people's functional auditory diversity.
Bookings can be made by email info@elbotebilbao.com, at the website www.elbotebilbao.com or by telephone at 944 839 494 or 944 910 800.