The Port Authority of Bilbao has awarded the prizes for the first Port of Bilbao Story Competition, aimed at schoolchildren who took part in the "Ezagutu Portua" (Basque for Know your Port) programme throughout 2015/2016.
This prize aims to create bonds between young people and the Port of Bilbao as well as to boost socio-cultural and educational activities.
The winners were:
First Prize: "MOHAMED LAGUNTZAILE APARTA" (MOHAMED, HELPER EXTRAORDINARY) by Imke Lázaro Van Splijk (from Lauro Ikastola, Loiu)
Second Prize: "EL PUERTO" (THE PRIZE) by Nora Suso Encinas (from Colegio Maristas, Bilbao)
Third Prize: "AMAMAREN ISTORIO TXUNDIGARRIA" (GRANDMA'S AMAZING STORY) by María Rueda González (from Colegio Karmengo Ama, Amorebieta-Etxano)
Although the theme was free, it had to comply with at least one of the following: the action takes place in the Port of Bilbao; some occupation, activity or other elements related with port activity is present; some goods transported through the Port are included or mention is made of an anecdote told or something learnt in the guided tours. The criteria assessed by the jury were originality, richness of the language used, knowledge of the Port of Bilbao and the inclusion of human and social values.
11,000 schoolchildren
Since the "Ezagutu Portua" programme was initiated in 2013, over 11,000 schoolchildren have visited the Port of Bilbao. All places have already been filled for the 2016/2017 school year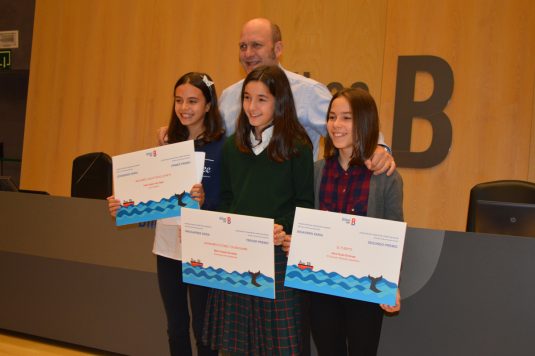 programme. The visits are free and are held on school days from Monday to Friday. This activity forms part of the competences being taught in
Basque classrooms. Different areas are covered such as History and Geography (History of the River and the Port), types of craft and vessels (classification and parts of a ship), maritime transport (means of transport, seaborne traffic, historic and present day trades and occupations) and energy and the environment (renewable energies, measurement instruments, environmental measures).
Visits for adults, universities and vocational education centres
Likewise, since April 2014, when the programme was expanded to adults, 3,700 adults have visited the Port. This year, visits have also been offered during the week for university students and pupils from vocational education centres.
Those interested should register beforehand at ezagutuportua@bilbaoport.eus.