In 2015, Port of Bilbao traffic – without including local traffic or supplies- stood at 32.4 million tonnes, representing a 5.12% increase (+1.6 million tonnes).
This increase in traffic, which grew for the third year running, (12.11% in the period 2013-2015), is thanks to liquid bulks (+11%), mainly as a result of the increases in petroleum, natural gas, gasoil and petrol. It was precisely this group that showed greatest accumulated losses in the 2007-2012 period as a consequence of the economic crisis.
Liquid bulks dropped by 1.4%; container traffic by 2.2% and general cargo almost by another 2%. Such falls were brought about by decreases in coal and coke, scrap and vehicle components, not to mention Transfennica's suspension of the Zeebrugge line in December 2014.
After last year's record figures, the number of containers maintained similar levels, with a 0.5% fall and stood at 627,302 TEUS, while refrigerated containers grew by 23%, which endorses the Port of Bilbao's advantages as a distribution centre for frozen goods.
In addition, traffic entering or leaving the Port's facilities by rail increased by 5%. The number of operations rose to 4,186, and 3,419 of these went to port terminals (+7% over 2014).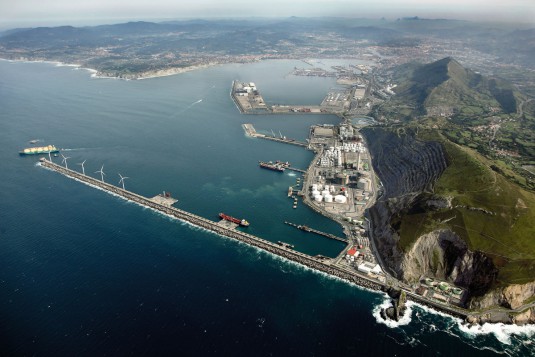 Markets
65% of overseas traffic corresponds to imports and the remaining 35% to exports. Unloading increased by 5% while loading by 4%.
Although the European Atlantic is still the Port of Bilbao's main market (37% of total traffic), there are markets emerging in important fashion both in the North American Atlantic, which grew by 15% and now represents 16% of traffic, and the African Atlantic, which increased by108%, and now supposes 10% of the total.
With regards to countries, the United Kingdom still occupies first place with 24% growth, followed by USA (+13%) and Mexico (+22%). Main increases in tonnes were with the United Kingdom, Nigeria and Angola.